Well-known member
Staff member
administrator
Registered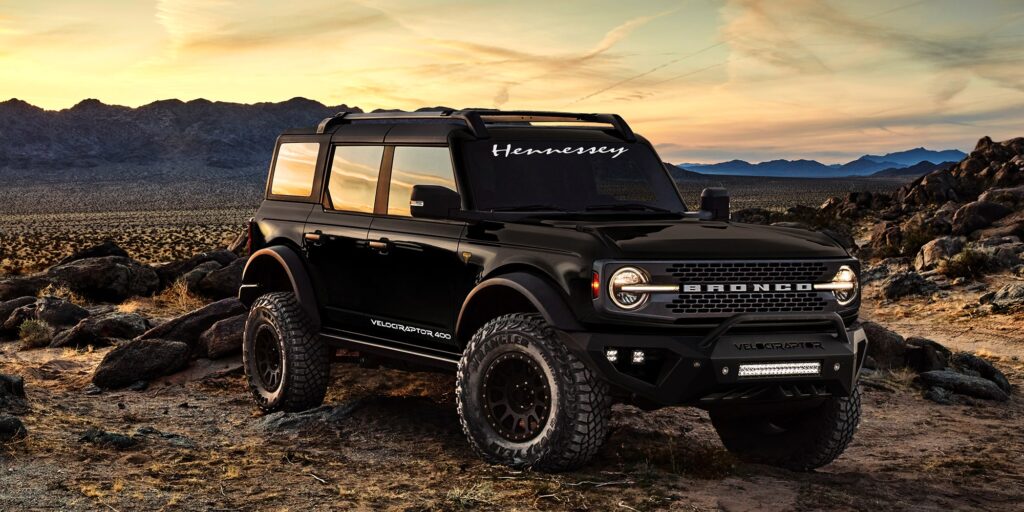 Hennessey harnesses Bronco 2.7-litre twin-turbocharged V6 engine to deliver high-speed thrills to the iconic 4×4 SUV
Range-topping Bronco upgraded with new intake and exhaust systems, plus Hennessey calibration and off-road package
All-new VelociRaptor 400 Bronco production limited to just 200 units for the first year
Sealy, Texas (July 15, 2021) – Hennessey Performance Engineering (HPE), the Texas-based hypercar manufacturer and high-performance vehicle creator, has turned up the power on the new Ford Bronco with its acclaimed VelociRaptor package. The all-new Hennessey VelociRaptor 400 Bronco boasts 405 bhp at 5,700 rpm and 503 lb-ft torque at 3,900 rpm as a result of comprehensive reworking by the experts at Hennessey.
The team's engineers fit new intake and exhaust systems to the 2.7-litre twin-turbocharged V6 powerplant, in addition to recalibrating the engine to maximize power. The VelociRaptor package adds 75 hp to the range-topping, Bronco Badlands and adds 88 lb-ft to the stock torque figure enabling the 4×4 to sprint from 0-60 mph in just 4.9 seconds.
With Hennessey's Off-Road Package, owners can individualize their Bronco further with 35-inch off-road tires on 18-inch Hennessey wheels; front and rear VelociRaptor bumpers; retractable side steps; and VelociRaptor branding. Thanks to the extensive Hennessey R&D process, all of the Bronco's engine modes and off-road systems are retained, plus Hennessey provides a 3-year / 36,000-mile warranty as part of the $80,000 price that the typical customer will pay (including the base Bronco Badlands).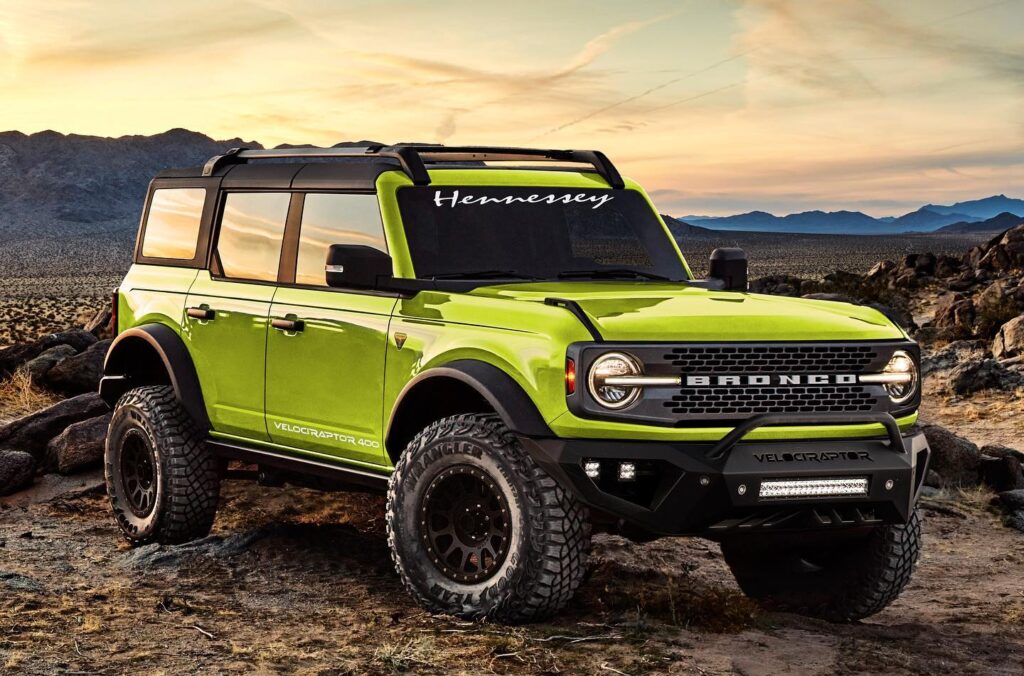 PECIFICATIONS: VELOCIRAPTOR 400 BRONCO​
• Engine Management Software Upgrade
• Upgraded Exhaust System
• High-Flow Air Induction System
• 18-inch Hennessey Wheels
• 35-inch Off-Road Tires
• Upgraded Electronic Fold Out Steps
• VelociRaptor Front Bumper with LED Lights
• VelociRaptor Rear Bumper Upgrade
• Hennessey & VelociRaptor Exterior Badges
• Hennessey Embroidered Headrests
• Limited Edition (200 units for 2021)
• Serial Numbered Plaques in Engine Compartment & Interior
• Professional Installation
• Chassis Dyno Tuning & Road Testing