Well-known member
Staff member
administrator
Registered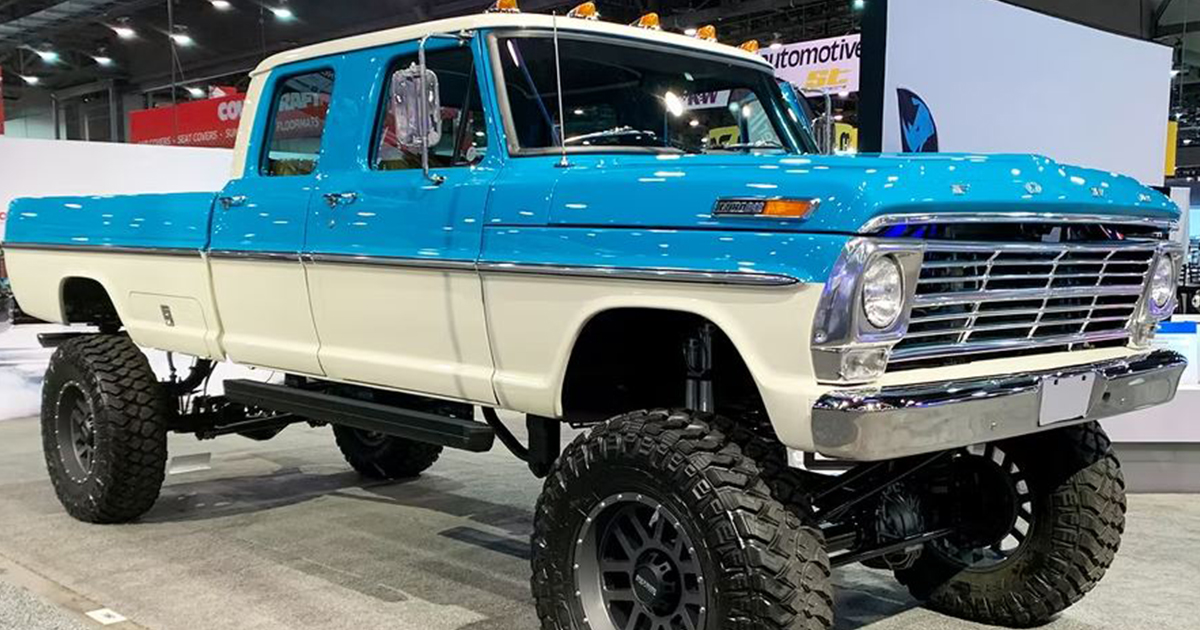 While the SEMA theme was vehicle electrification, a traditional ICE powered truck from Gateway Bronco crushed the show in Las Vegas. The brainchild of Ray Capella, this reimagination of a 1972 Ford F350 4×4 Sport Crew Cab powered by a new Ford "Godzilla" V8 engine was the star of the Eaton booth in the show. Gateway Bronco maintains a license from Ford Motor Company to transform heritage "Built Ford Tough" F-Series trucks using modern supercharged drivetrains, suspensions, and amenities. The world-class reconditioned Ford Broncos boast contemporary engines, transmissions, brakes, and suspensions engineered to make the classic SUV perform similar to a modern luxury one.
Ray Capella was so delighted with the classic Bronco that we previously built him that he asked us to create a groundbreaking restomod classic F-350," said Seth Burgett, president of Gateway Bronco. "Ray really challenged our team. He wanted it to have the world's first supercharged Godzilla engine. He wanted it to have Eaton's latest technology that would deliver 4×4 control at the push of a button, similar to a modern truck. And he wanted it to be wrapped in a beautiful body that would equal anything on a Concours field."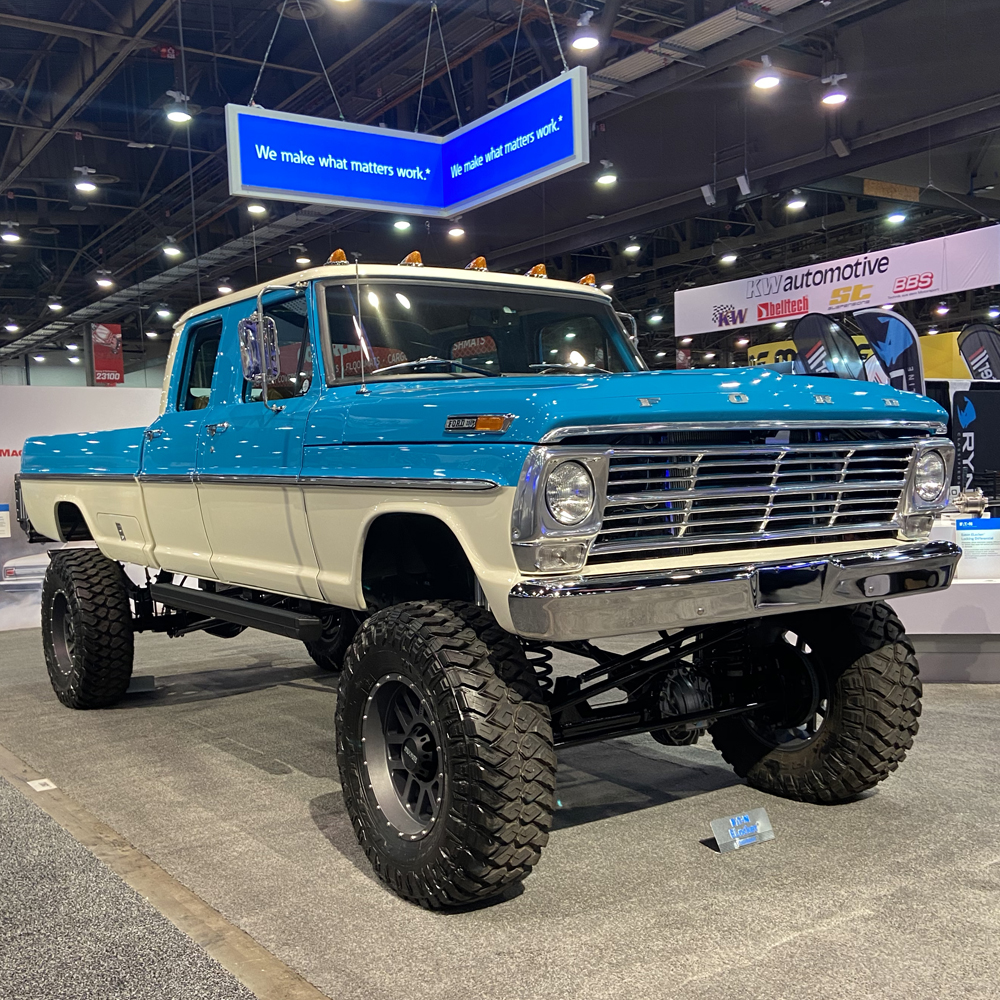 Working closely with Capella, the design team at Gateway Bronco set out to create the truck of his dreams. The first call was to the experts at Harrop USA, who embraced the challenge. "It's exciting to have an opportunity to build something that's never been done before," said Heath Moore, general manager of Harrop USA. "Being able to do that, along with challenging what people thought was possible in a vintage truck made this opportunity even more special."
The Harrop Supercharger on the new Ford 7.3-liter V8 engine leverages the same Eaton Twin Vortices Series (TVS) Supercharger technology in the current Shelby GT500 muscle car. The result was earthshaking as the V8 cranks out over 1,000 horsepower.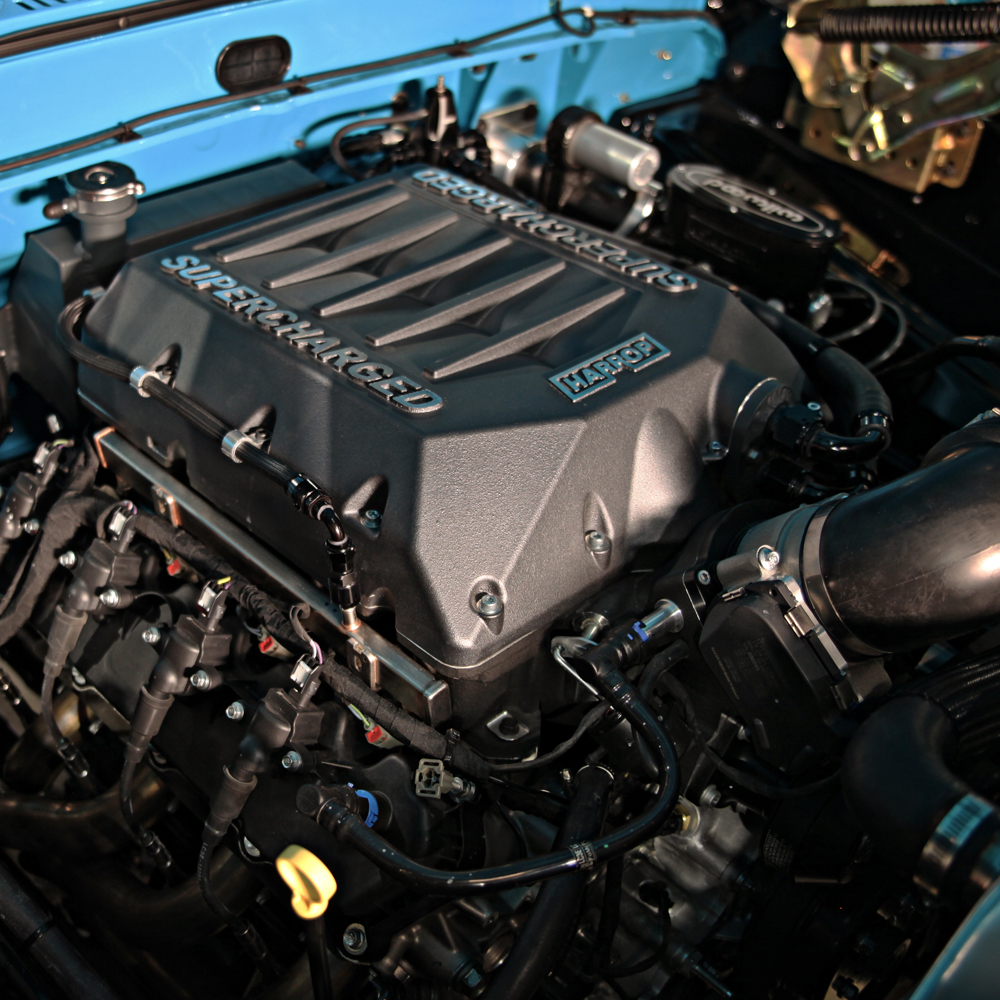 All that power would be irrelevant if the horses could not be kept under control. Gateway Bronco elected to pair the monstrous engine with Eaton's ELocker performance differentials in both the front and rear. They knew it would handle the tremendous torque churned out by the one-off F-series Resto-Mod's engine.
When Eaton Performance, a longtime supplier to Gateway Bronco, saw the specs for the Ford F350 Godzilla truck, they asked to debut it in their SEMA exhibit. That inspired them to ensure the truck was properly set up. "Godzilla features our Eaton ELocker, which is an electronic, selectable differential designed for drivers that need traction on-demand," said Tim Bauer vice president, Aftermarket North America at Eaton. "At the flip of a dash switch, drivers can go from open to 100-percent locked. Another flip of the switch deactivates it to resume normal driving." The Gateway team also addressed Capella's final challenge – to ensure that the vintage F350 had the same quality and craftsmanship as the company's legendary Bronco builds. One look at Capella's Godzilla truck confirms their success.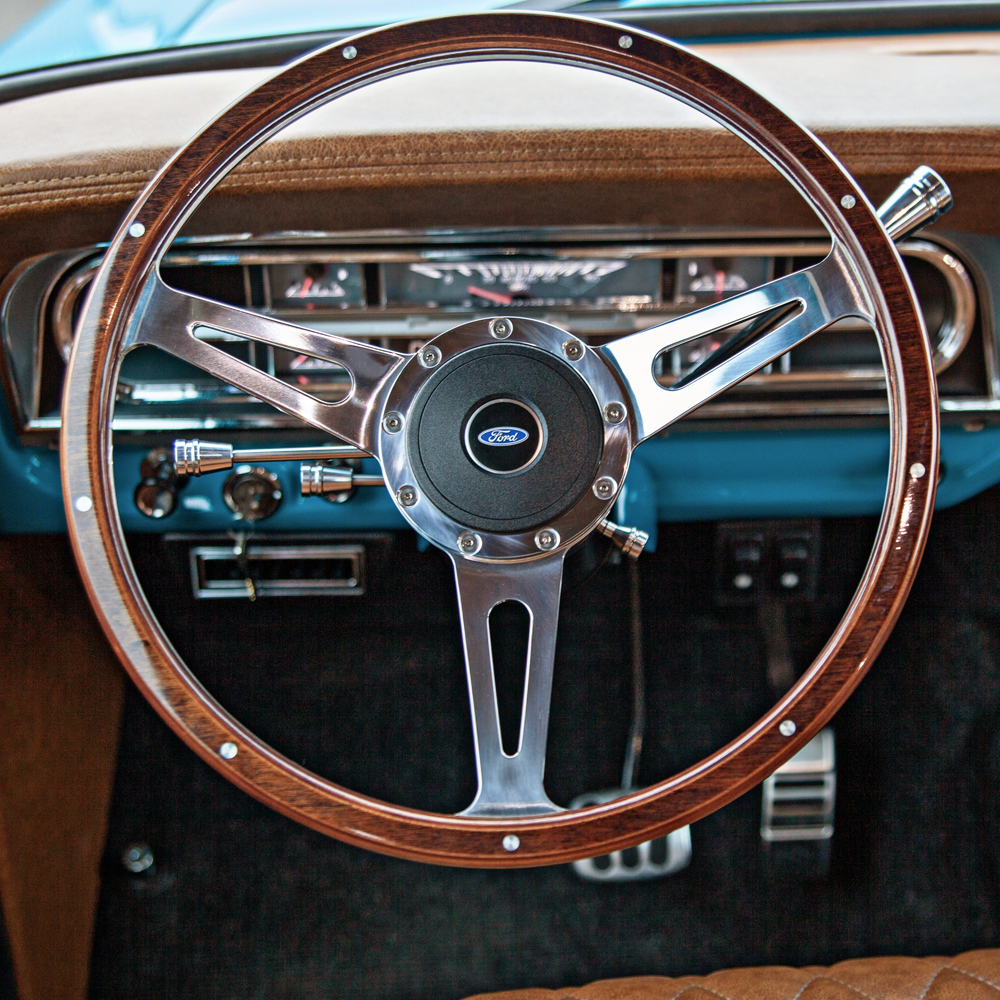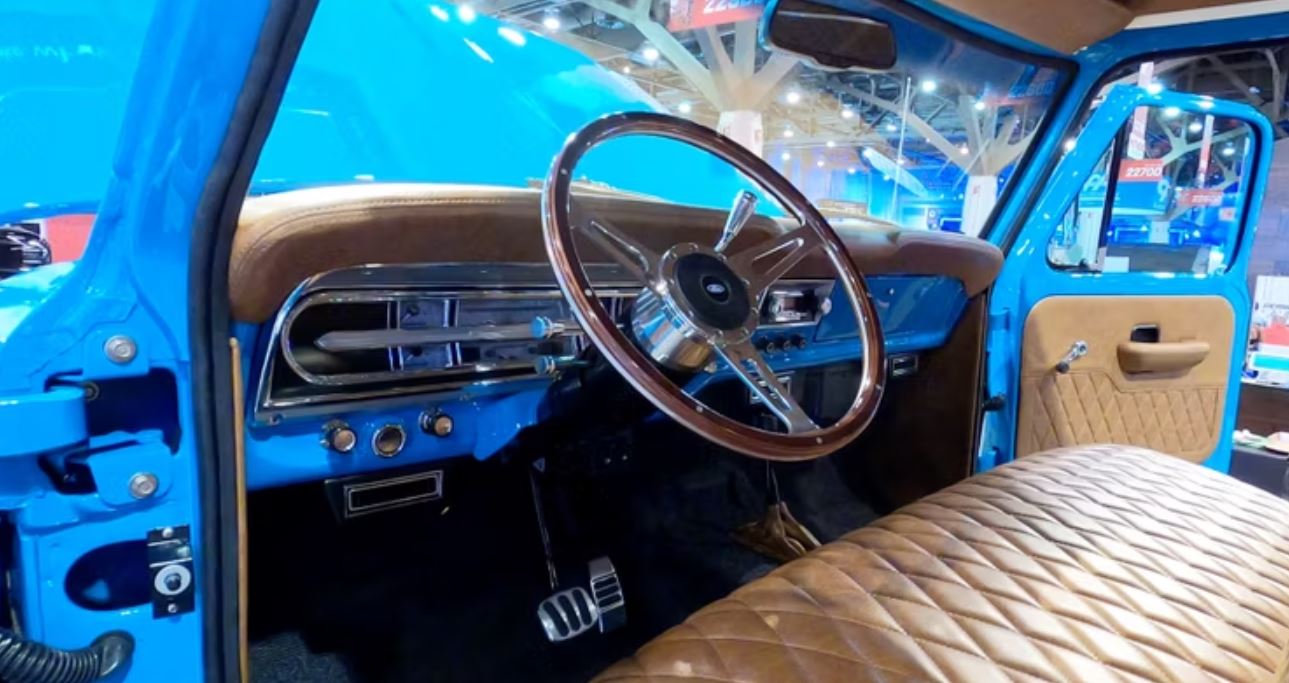 "With the custom paint scheme Ray designed featuring Porsche's Miami Blue and Shelby's Wimbledon White, the truck's finish is as impressive as its stature," added Burgett. "Paired with Gateway Bronco's exclusive barnwood bed, the Godzilla truck sets a new standard for what's possible for a 1972 Ford F-350." Like his heritage SUVs from Gateway Bronco, the "Resto-Mod" Ford F-350 is a marvel of engineering and quality that met Capella's requirements. The specs are simply mouthwatering. Starting with an original 1972 truck, the Gateway Bronco team integrated: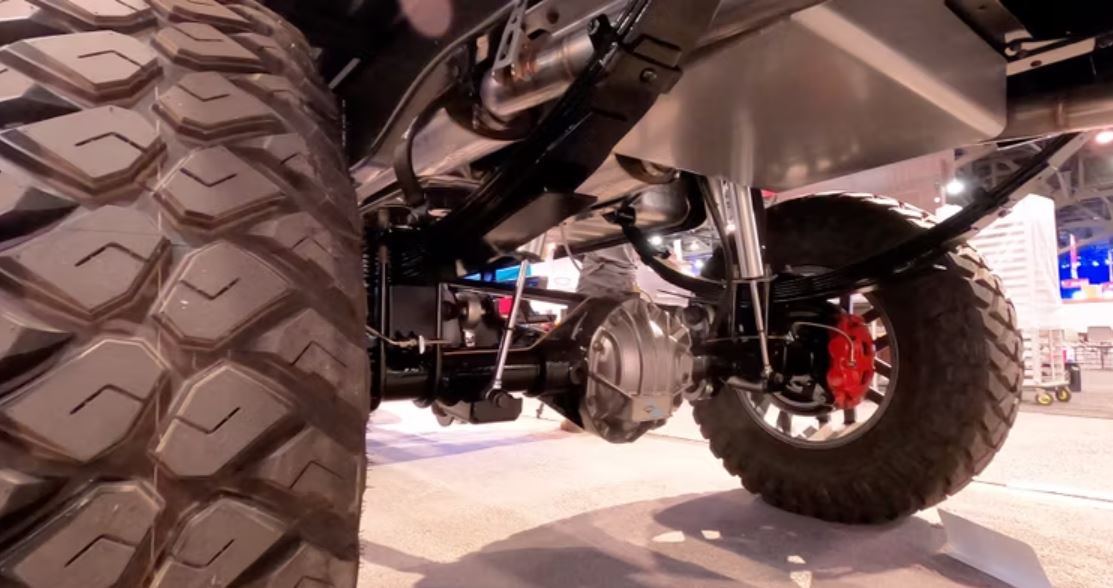 Godzilla 7.3L Ford V8 with Harrop TVS2650 Supercharger pumping out over 1,000 horsepower
An Eaton Performance differential package, featuring an Eaton ELocker front and rear differential for the ultimate traction performance
Push button 4×4 control, similar to a modern truck
Powder coated custom designed 4-link chassis
6 speed automatic transmission
Custom leather interior including distressed bench seats
Genuine 8' barnwood bed
The sheer size and scope of the Ford F350 Godzilla truck also left an impression during the show.
"While our Godzilla won't breathe flames, it will lay them down," said Burgett. "With its dominating stature, technology and over 1000 horses, this first-of-its kind, handcrafted truck had SEMA attendees looking over their shoulder for the beast in the building."