Well-known member
Staff member
administrator
Registered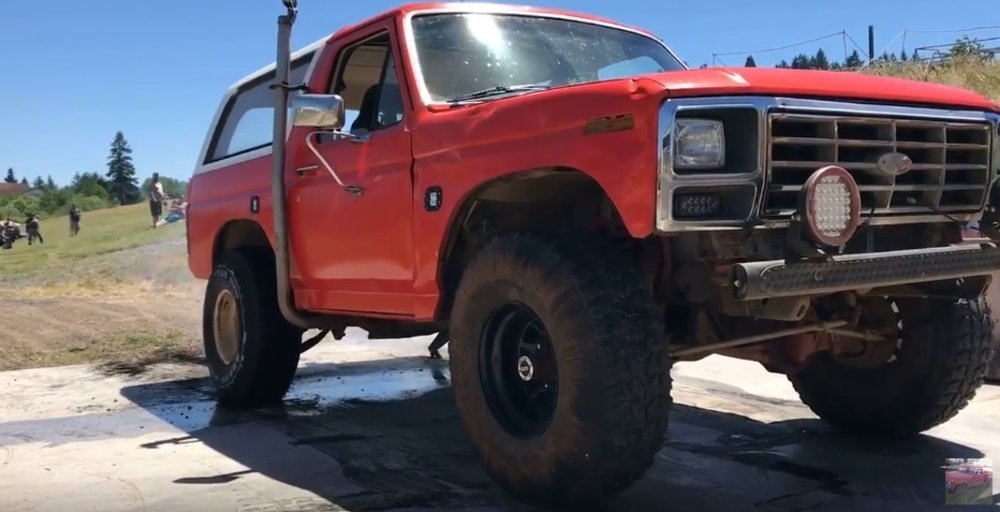 Big Bronco with a 351-cubic inch V8 and a manual transmission puts on an incredible smoke show.
The big Ford Bronco is an incredible off-road machine in stock or lightly modified form, while heavily-built versions make cool drag racers. While the off-road-ready SUVs aren't ideal for the quarter mile, they can still put on a solid smoke show, and this video from the
cadillaccomaro YouTube channel
is a fine example. This Bronco clearly isn't built for speed on a paved track, but it still puts a serious smokin' to the beefy rear tires.
Details on the Bronco
This 1985
Ford Bronco
is powered by a
351-cubic inch Windsor V8
that is mated to a manual transmission and a 4.88 gear sets with
ARB lockers
. We can also see that it sits higher than stock, so in addition to the big off-road tires, we are guessing that this SUV has some suspension upgrades, as well as a custom front bumper with LED off-road lights and, best of all, an innovative exhaust stack setup that is routed up along the side of the body just behind the doors.
Winning the Competition
As the video begins, the 1985
Ford Bronco
is sitting on a wet concrete pad with a tow rope anchoring the big SUV to the ground. That is key, as it makes it far easier for the driver to manually get through the gears without concern of the SUV lurching ahead, which is almost certainly would have done during this burnout.
The burnout starts in first gear and when the driver shifts into second, the rear wheel that we can see stops spinning, but the body movement suggests that the other wheel might still be spinning. In any case, the Bronco gets the tires spinning again in second gear, at which point the burnout really gets good. Within a few seconds, we can no longer see the end of the vehicle and when the driver goes to third gear, the engine bogs down for just a second before creating tons more smoke.