Well-known member
Staff member
administrator
Registered
John Yeiser is the owner and builder of this 1969 Ford F-100 prerunner called the F2000. John not only designed the F-100 to be an amazing prerunner, but also to be a street legal hot rod. The cab is an original steel cab, but the rest of the truck is custom molded fiberglass. John wanted the truck to look like a modern version of a 1969 Ford F-100. Autometer gauges relay vital information from a custom-fabricated aluminum dashboard. MasterCraft seats and belts keep occupants safe and comfortable, while a Vintage Air system keeps the cab pressurized to keep dust out. A fire retardant system also further ensures occupant safety. Not visible in the photo is the rearview mirror that incorporates a back-up camera to make reverse maneuvers an easy task.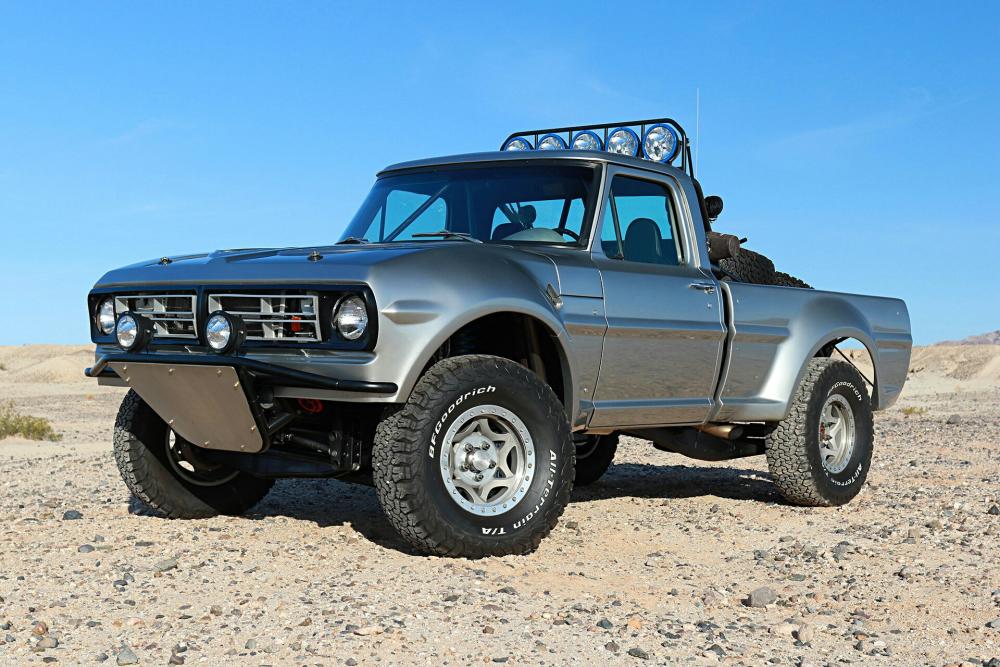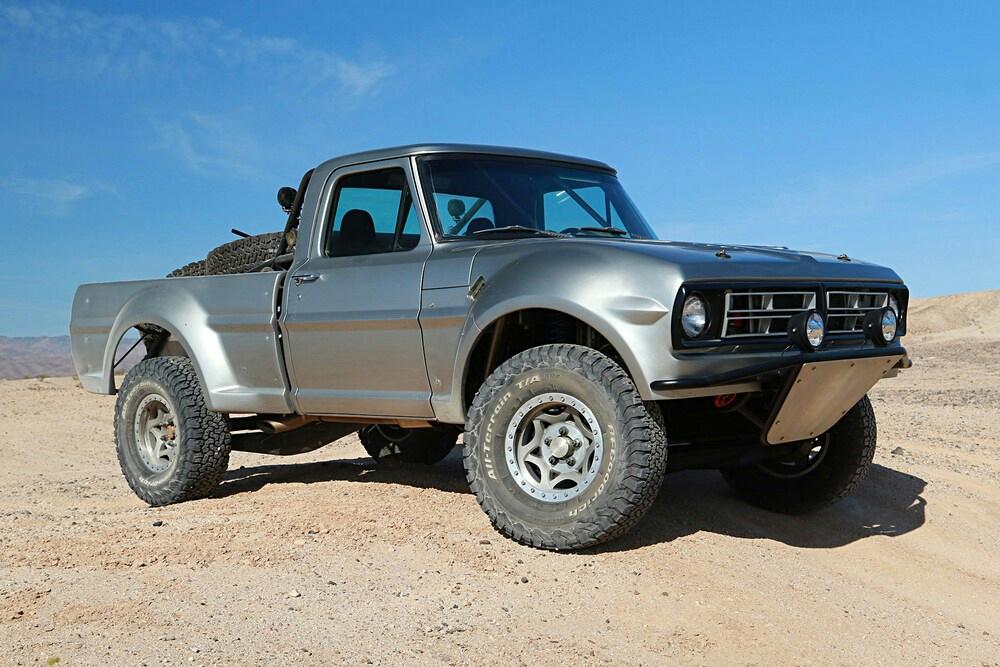 One of the most interesting features of the Ford is its engine. Resting underneath the custom front clip is a Norm Sappenfield-built 460 Ford.The balanced and blueprinted big block V-8 consists of Trick Flow aluminum heads, JE forged pistons with floating wrist pins, Eagle H-beam rods, a Comp Cams hydraulic roller tappet camshaft and a forged-steel crank. Helping produce major power are twin Turbonetics T-4 60-series turbochargers equipped with Turbonetics Evolution wastegates and Raptor bypass valves. The compressed charge then cools on its way through two Spearco intercoolers and ultimately feeds a Vortech enclosure that houses an 800-cfm Mighty Demon carburetor. Boost is adjustable, and on the dyno, the rowdy V-8 can produce anywhere from 750 to 1000 HP and 800 to 1000 lb-ft of torque.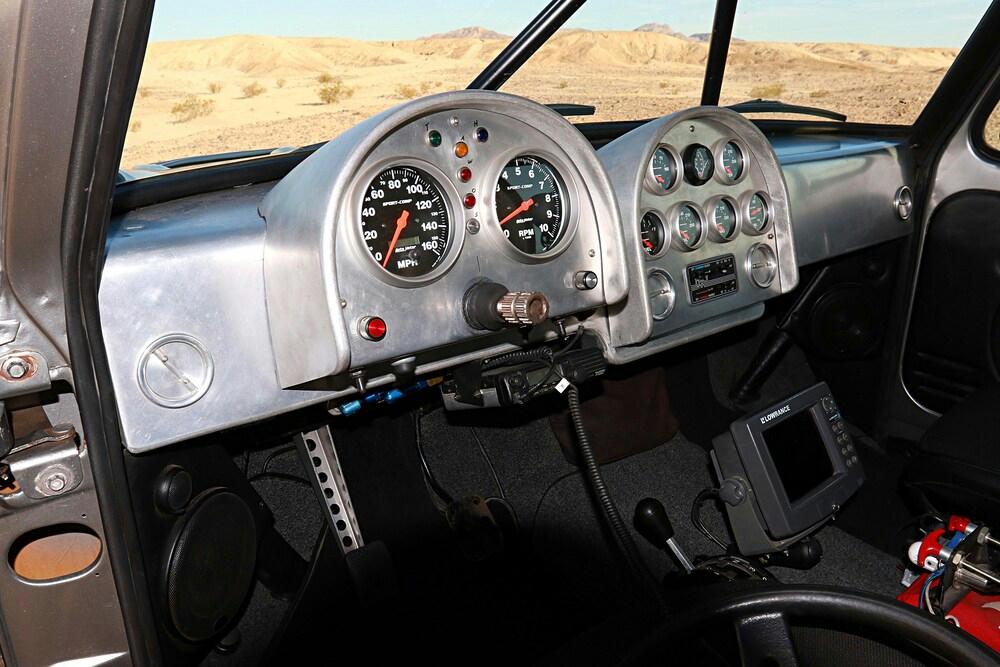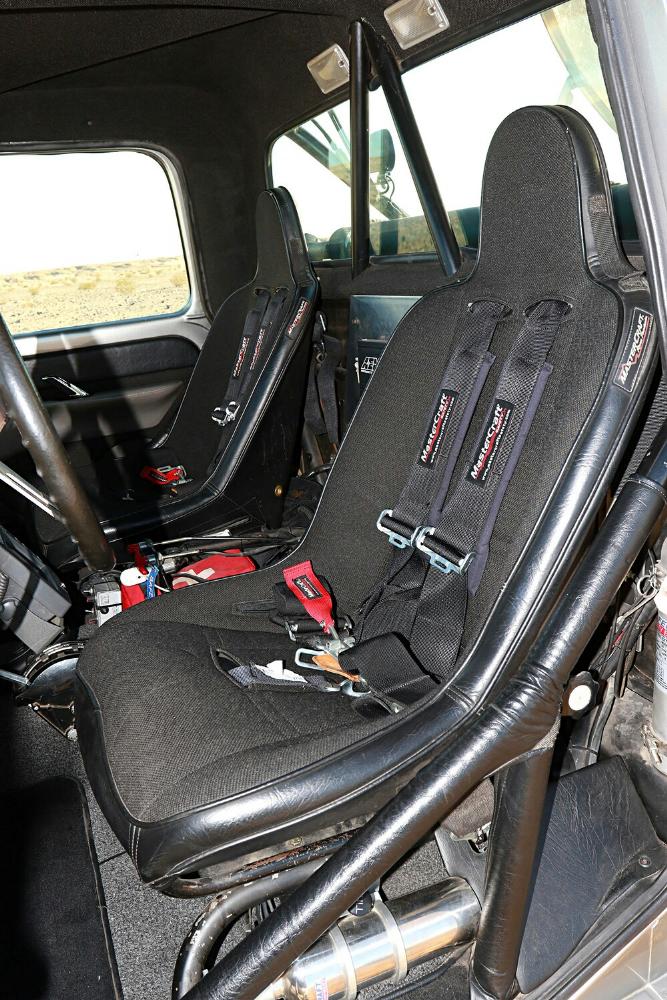 Complete Fabrication utilized Ford's I-Beam design, but built its own beams out of 4130 chromoly that utilize balljoint spindles and CNC hubs. The setup cycles 26-inches of wheel travel and is controlled by 3-inch diameter Sway-A-Way coilovers and 3-inch diameter, 16-inch-stroke Sway-A-Way bypass shocks.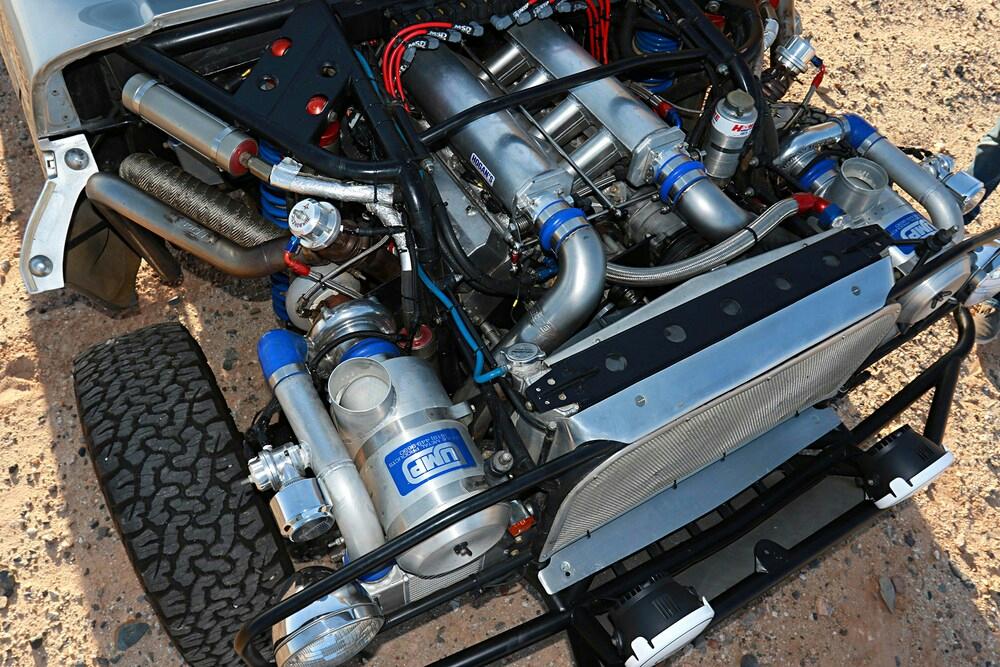 CNC six-piston calipers are used along with the complicated but-necessary dual-pivot crosslink steering fabricated from 1-1/8 inch O.D. by 1/8-inch wall thickness chromoly tubing. Providing 36 inches of wheel travel in the rear is a four-link suspension built by Complete Fabrication. One Sway-A-Way 3-inch-diameter coilover along with a Sway-A-Way 3-inch diameter, 18-inch stroke bypass shock is utilized per corner to control movement. A torsion bar sway bar, also from Sway-A-Way, reduces excessive roll. Barely visible is the Sandy Cone 40-spline full floater 9-inch rearend stuffed with 4.56:1 gears and a spool.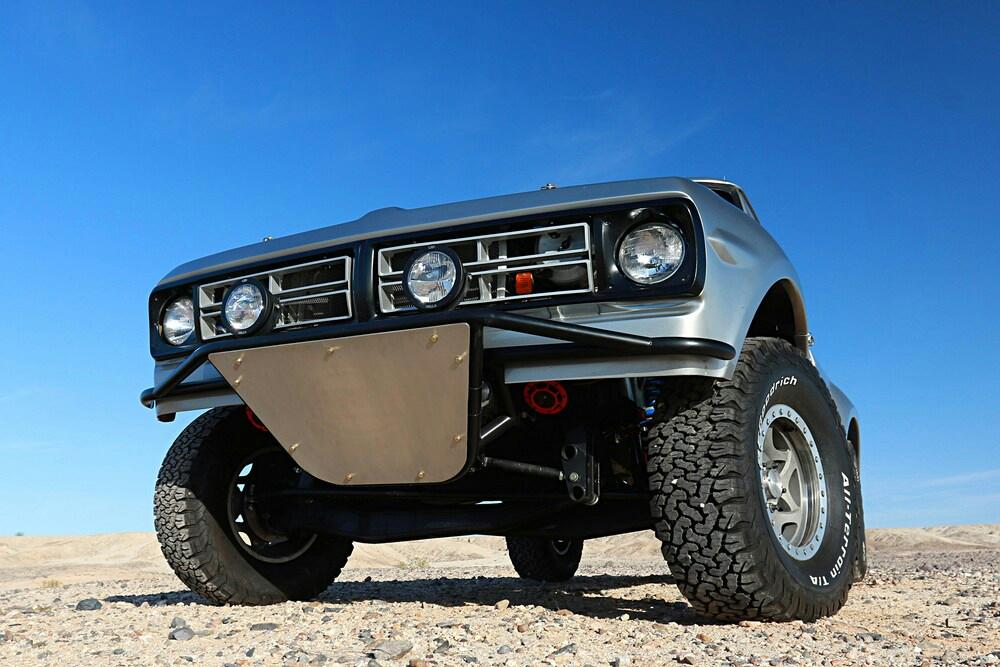 To properly cover the extra width of the new suspension, a beautiful new body shape was conceived by Dan Ellis at Form Design. The expertise of Prototype Concepts was then utilized to carefully construct the nose and bed from fiberglass. Benny's Autobody then painted it silver.