Well-known member
Staff member
administrator
Registered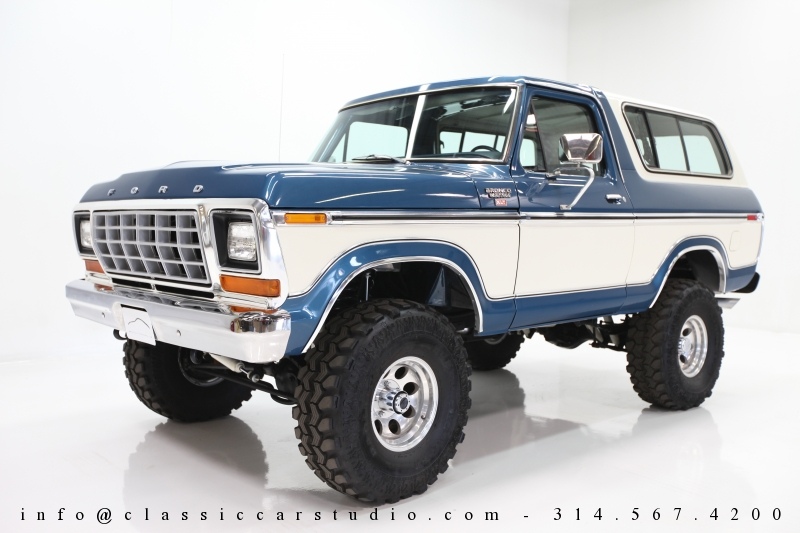 This 1979 Bronco is an original rust free California truck that was given a loving restoration with a downright nasty powertrain.
The body of the Bronco was stripped to bare metal revealing a rust free body and frame which were then given a high end refinish. Most of the trim is original and in excellent refinished condition and all of the body parts are original Ford stuff with the exception of the front and rear bumpers which are new replacement pieces. The interior features some nice original parts, but quite a few replacement items such as the carpeting and the seat covers. The interior is crisp and comfortable, and a downright blast with the top off. The electric rear window works correctly by turning the key in the rear lock and all of the rubber is new throughout.
Most older 4X4s we see utilize rebuilt version of the original engine, but that wasn't going to cut it for this restorer. Starting with a Ford Motorsports 460 block with screw in freeze plugs, this motor was stroked out to 580 cubes and now sports aluminum Trick Flow heads, a Trick Flow intake, 1050 Dominator Carb and MSD 6AL electronic igntion. Cooling comes courtesy of a big 4 core radiator and electric fan and the fuel comes from slick looking refinished tank via a hi-po fuel pump. On the front of the motor is an accessory billet drive system from March Engineering. The motor makes silly power (read: "over 600") and a downright nasty amount of torque(read: "too much fun = no more rear tires"). All of this being said, the Bronco is easy to drive, starts right up from dead cold and runs cool as can be. The sound of the motor is meaty coming through a set of custom made headers that have been Jet Hot coated for durability. All of this pipes through a 3" exhaust sporting FlowMaster mufflers.