Well-known member
Staff member
administrator
Registered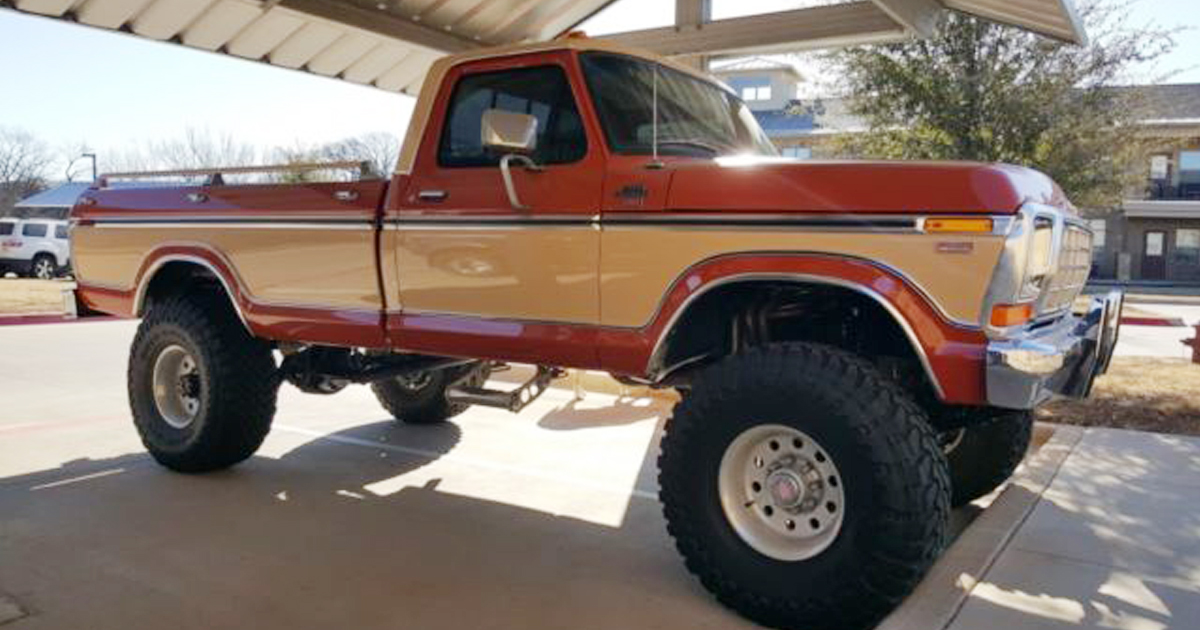 78 F-250 4X4 Victorian two-tonehas all of it's"ORIGINAL" BODY PANEL'S (NO PLASTIC FILLER)USED TO FILL OR PATCH ANYTHING... ALL METAL &"BRAND NEW" TOYO 38X15.50X16's RADIALSon"CENTERLINE" WHEELS... EVERYTHING ON THIS TRUCKis NEW, REBUILT, OR REPLACED. 3" FLOWMASTER EXHAUST, L & L HEADERS.
This truck is a7.5ltr460 ci heavy build C6 transmission, (all new as well)DUAL TANK',CAMPER &TRAILER special... This truck drives & rides as good as it looks.
You are looking at all the original metal from "Ford Motor Company" to includeoriginal floor pan's & theoriginal bed that was never worked or abused in any way... I painted the bed in lieu of a bedlinerso there is no question how nice this bed is... You can reviewpictures of the bed before it was painted & I have more upon request..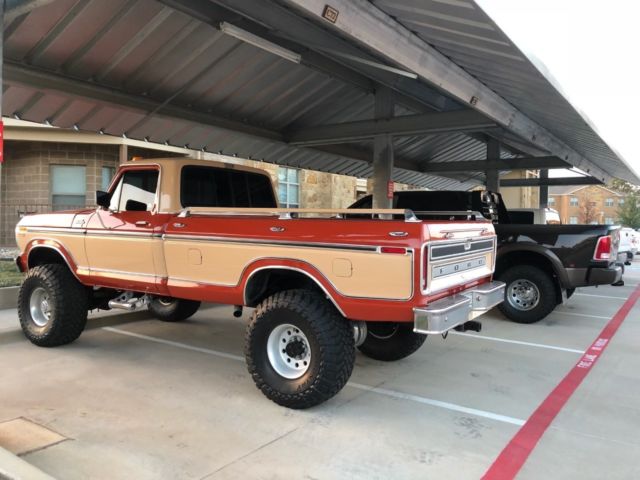 I have manypictures available, somefrom years agothat show just how nice this truck was when I bought it...
Though the truck was exceptionally nice when I purchased it, I have taken it to the next level.
The truck was painted with DuPont HIGH GLOSSPOLYURETHANE &CLEAR COATED withseveral coats... This truck shows like it should & you can show it offwith pride.
(Complete restore) wasProfessionally done, "SKYJACKER"LIFTED, ALLNEW MOTOR, & DOVE HEADS...
I have owned this truck for 12 years & have spent thousands of dollars to make this vehicle what it is today.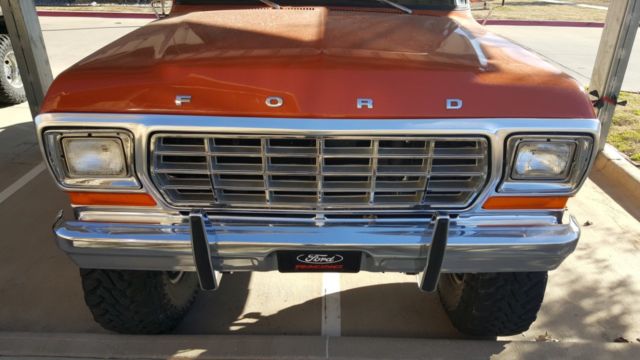 This is aFACTORY AC truck with all ONE TON RUNNING GEAR, "Ford Motor Company" did not make an F-350 single rear wheel until 1979... The truck comes complete with aDana 60 Front & a strong10+ Sterling rear... Trac-Lockdiff with all new gears front & rear.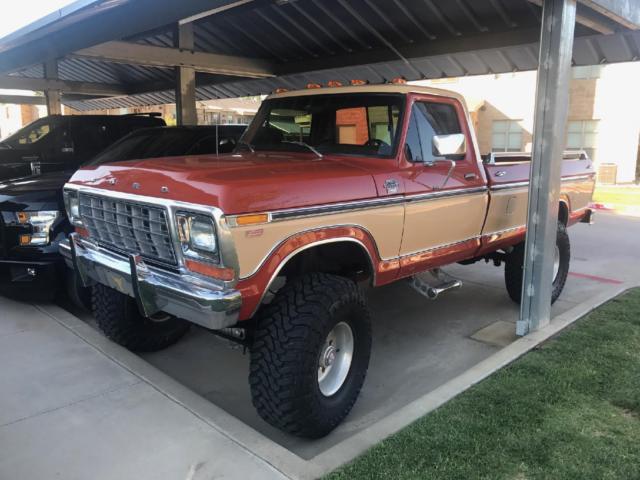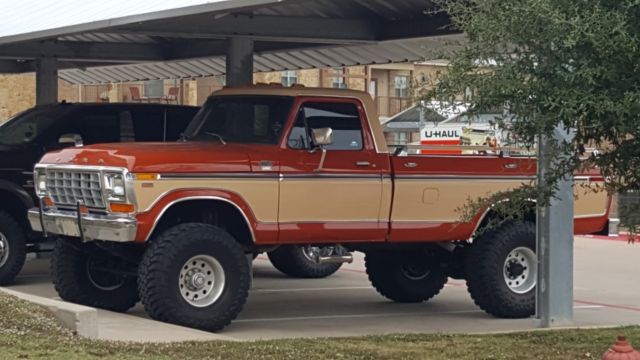 (Factory) Air Conditioning blows cold as it should... 7.5 LTR 460CI TOTAL recent motor rebuild by a well known engine builder in Stephenville TX, receipts available.
A great deal of the mechanical work was performed by a well known Ford dealership & can be verified by the new owner.
Body & Paint also completed by aPROFESSIONAL SHOP local to methathas been doing quality restorations for 40 plus years at the same location.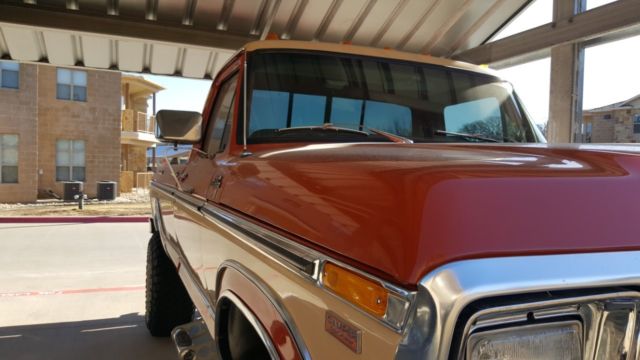 INTERIOR was completed by a first rate custom upholstery shop in Weatherford, TX... Owner has 35 years experience & has completed projects on the finest show cars, yachts & personal jet's.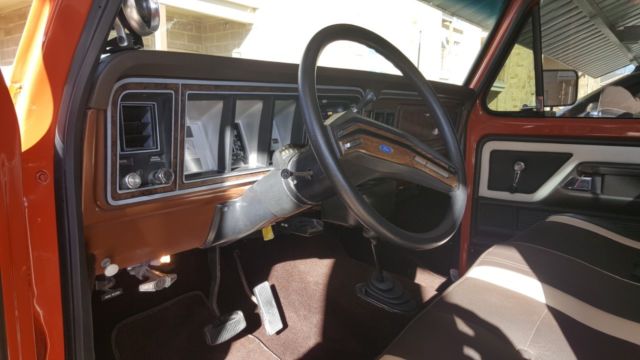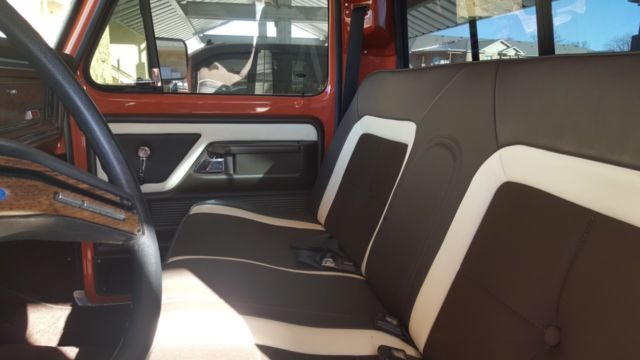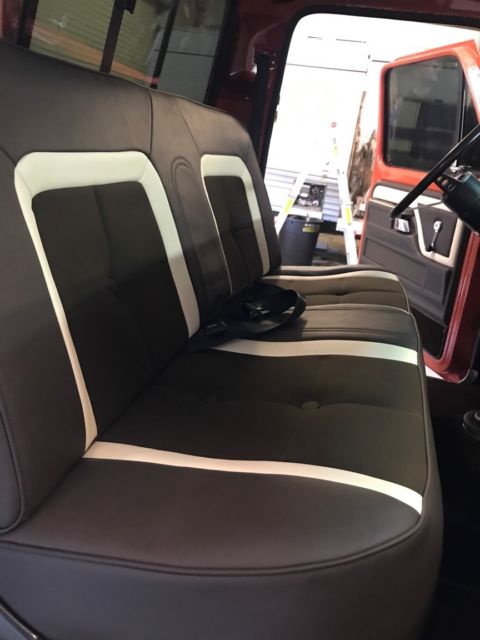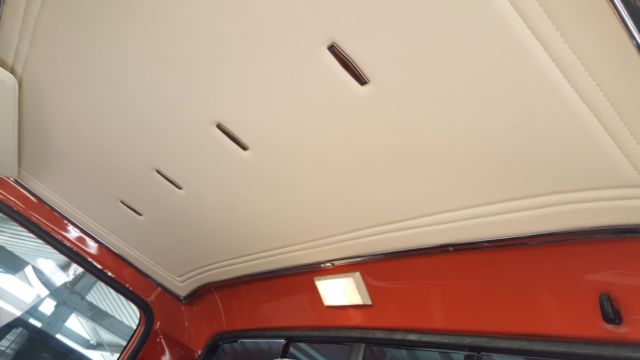 1. Expensive Hydraulic roller camshaft for longevity & durability,(I removed the Flat Tappet Cam) during the complete rebuild 3 month's ago... Truck has lopey idle & sounds like a 460 should... Truck runs on pump gas & idles as it should. I run nothing but high zinc enriched racing oil. (30 weight)
2. Roller Rocker Lifters.
3. DOVE heads from a 68 Lincoln to allow for larger piston's for additional horsepower... (Hard to find heads)
4. MSD ignition also new.
5. Holley 770 "Factory New", (notremanufactured)"Street Avenger" Chrome finishwith Red accents.
6.Edelbrock Valve covers & Air cleaner also new. Triple (Chrome) plated with long lasting finish.