Well-known member
Staff member
administrator
Registered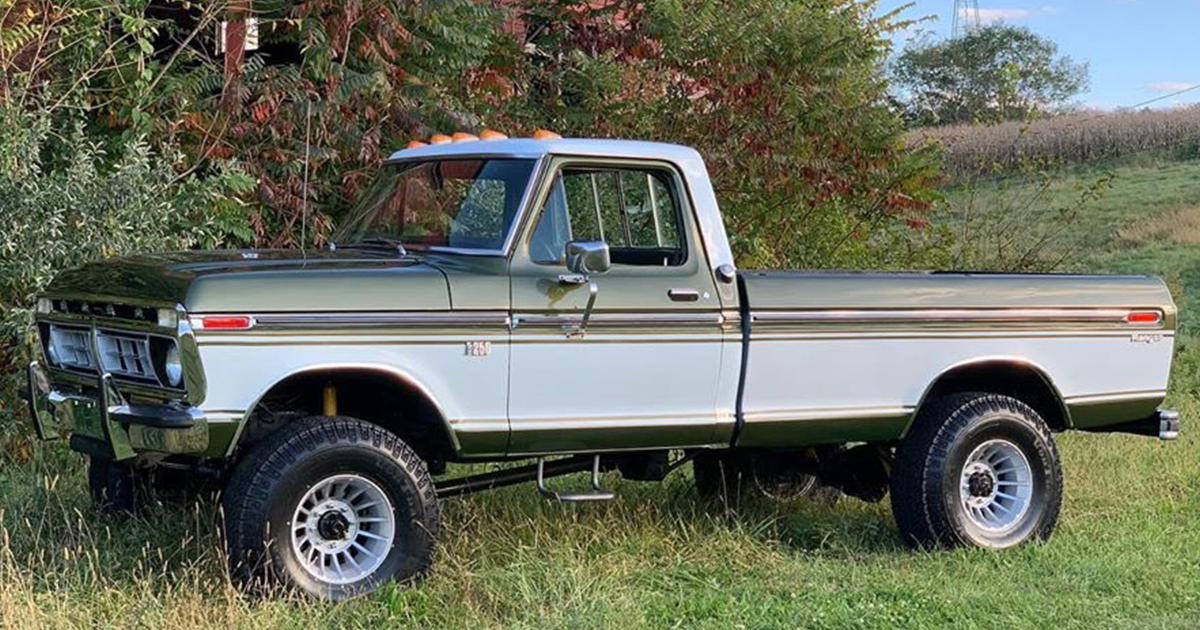 This 1976 Ford F-250 Highboy Ranger was built in the San Jose Plant late in 1975 and later sold on October 21, 1976 at Fairway Ford Dealership located in Placentia, CA. The Highboy Ranger was ordered with a 360-2v motor that was paired with a C6 automatic 3 spd transmission. A Dana 60 with 4.10 gears / limited slip axle is behind the full time 4wd divorced transfer case.
Listed options:
- White body accent panel tape stripes
- Ammeter & oil gauges
- California emissions
- Noise reducing exhaust
- Power steering
- Bright western mirrors
- Sliding rear window
- Carpet delete
- Protection group
- Convenience group
- Full Time 4WD
- Dealer installed A/C
The original owner, who resided in Orange California, purchased this truck for a company work vehicle. He maintained meticulous care of it for nearly 25 years until finally selling it to his employee. The Highboy stayed in California with its new owner in nearby Hesperia. The second owner continued to care for the Highboy during the next 15 years.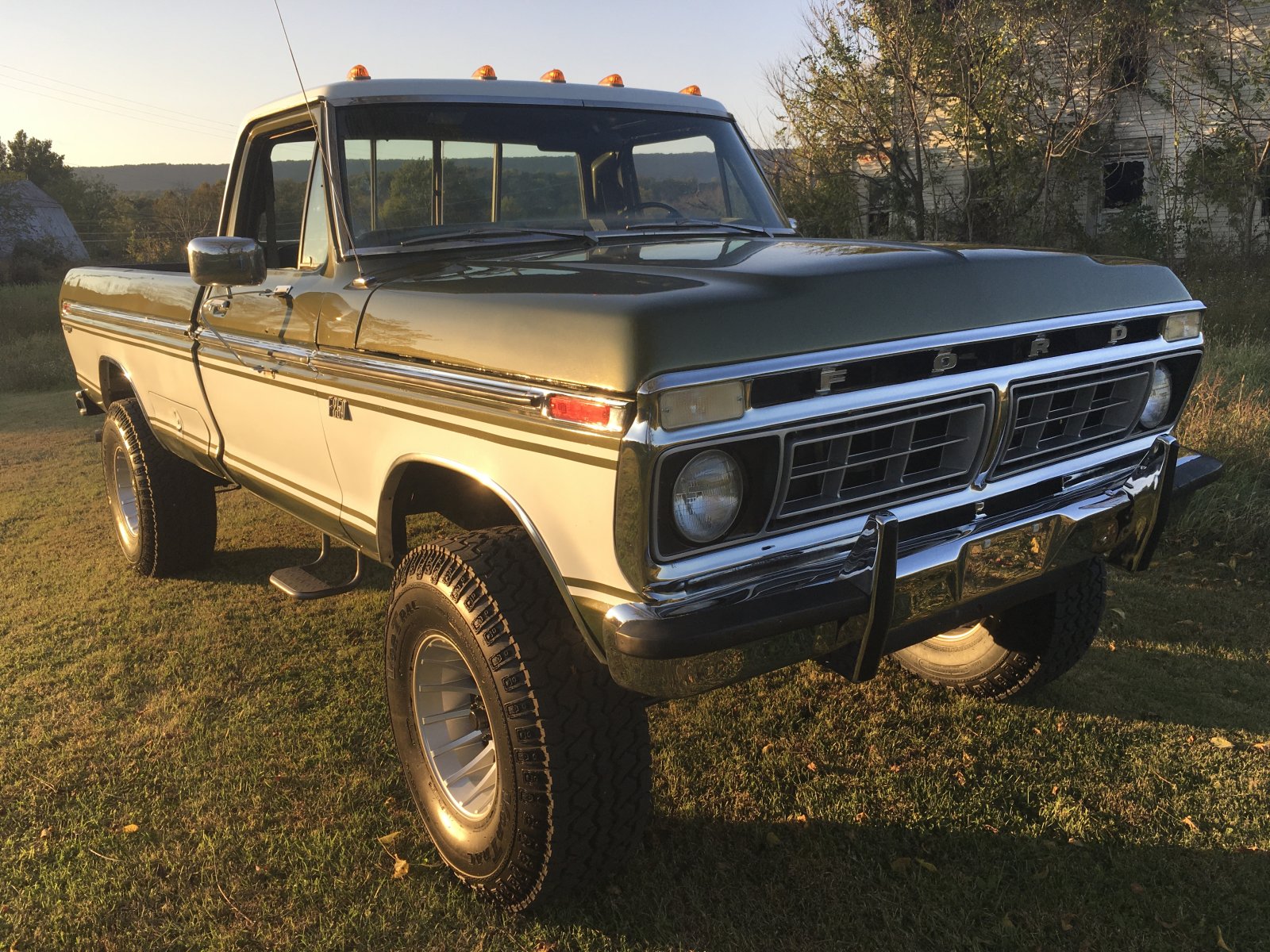 Over those 15 years, the second owner added a black carpet, a 4 bbl carb, replaced the western long arm mirrors with low profile mirrors and gave it a new paint scheme using the original colors.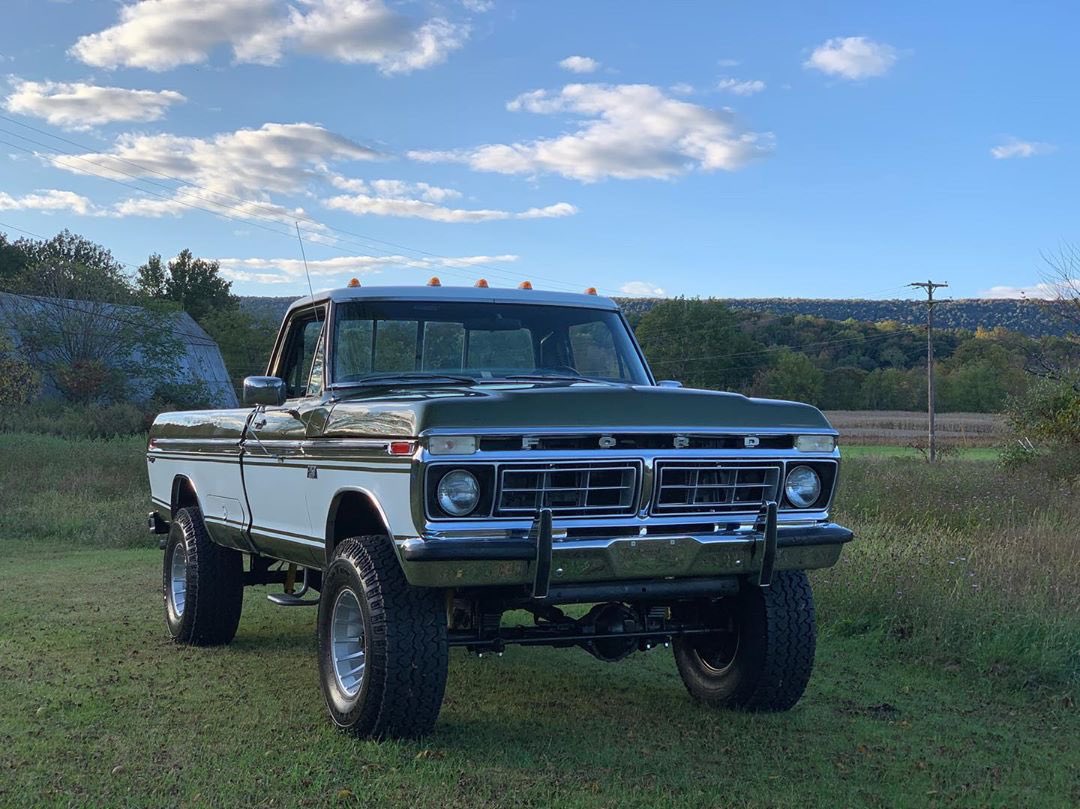 The Ranger eventually went for sale for a third time. This time it changed hands to a friend of mine in Mission Viejo, California. Under his ownership, he had the original 360 removed and rebuilt to factory specs. He reluctantly sold it to me after only owning it for one year, only because I agreed to sell him one of my gems.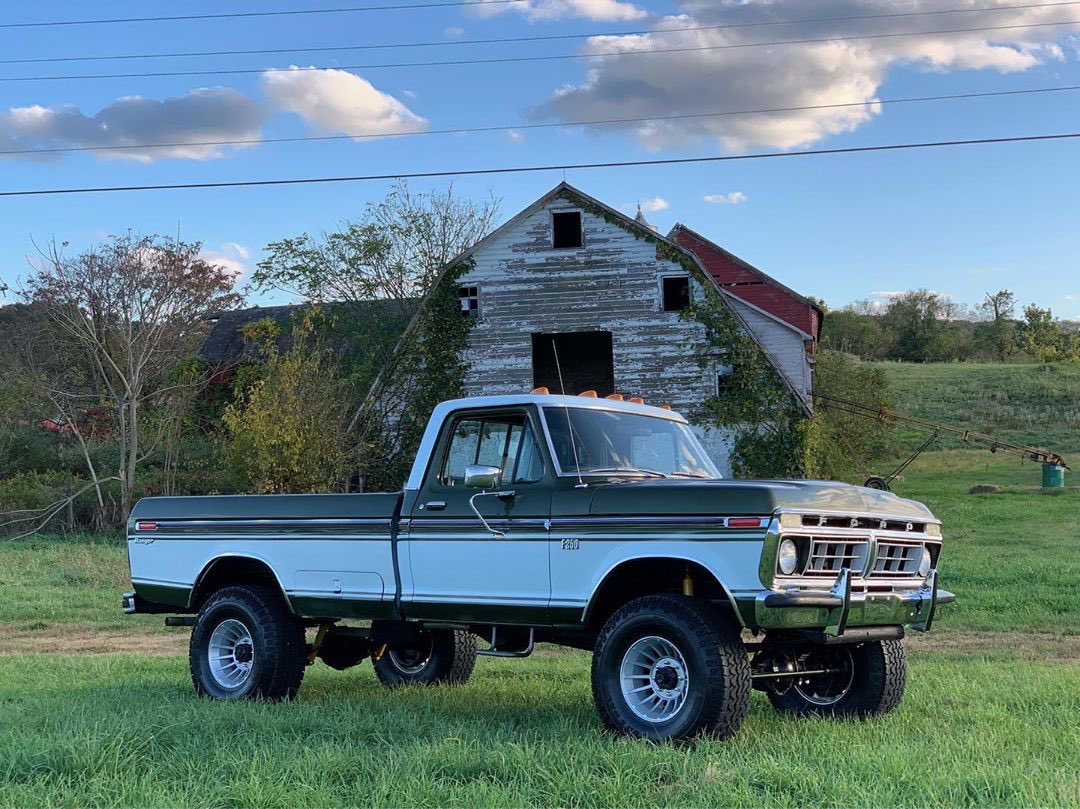 Currently, the Highboy shows 72,500 miles on the odometer. This is clearly evident by the condition of not only the original green vinyl bench seat, but the cleanliness of the undercarriage. I'm contemplating on repainting the truck only to bring it back to its original paint scheme. This would entail leaving the roof wimbledon white and painting the entire rest of truck hatteras green metallic. Next, the white body accent tape stripes (decals) would be applied down the entire center of the Highboy. I may also convert it part time 4WD to reduce the wear and to help gas mileage. In addition, I will replace all the weather stripping, but I'm holding off to see if I decide to repaint the truck.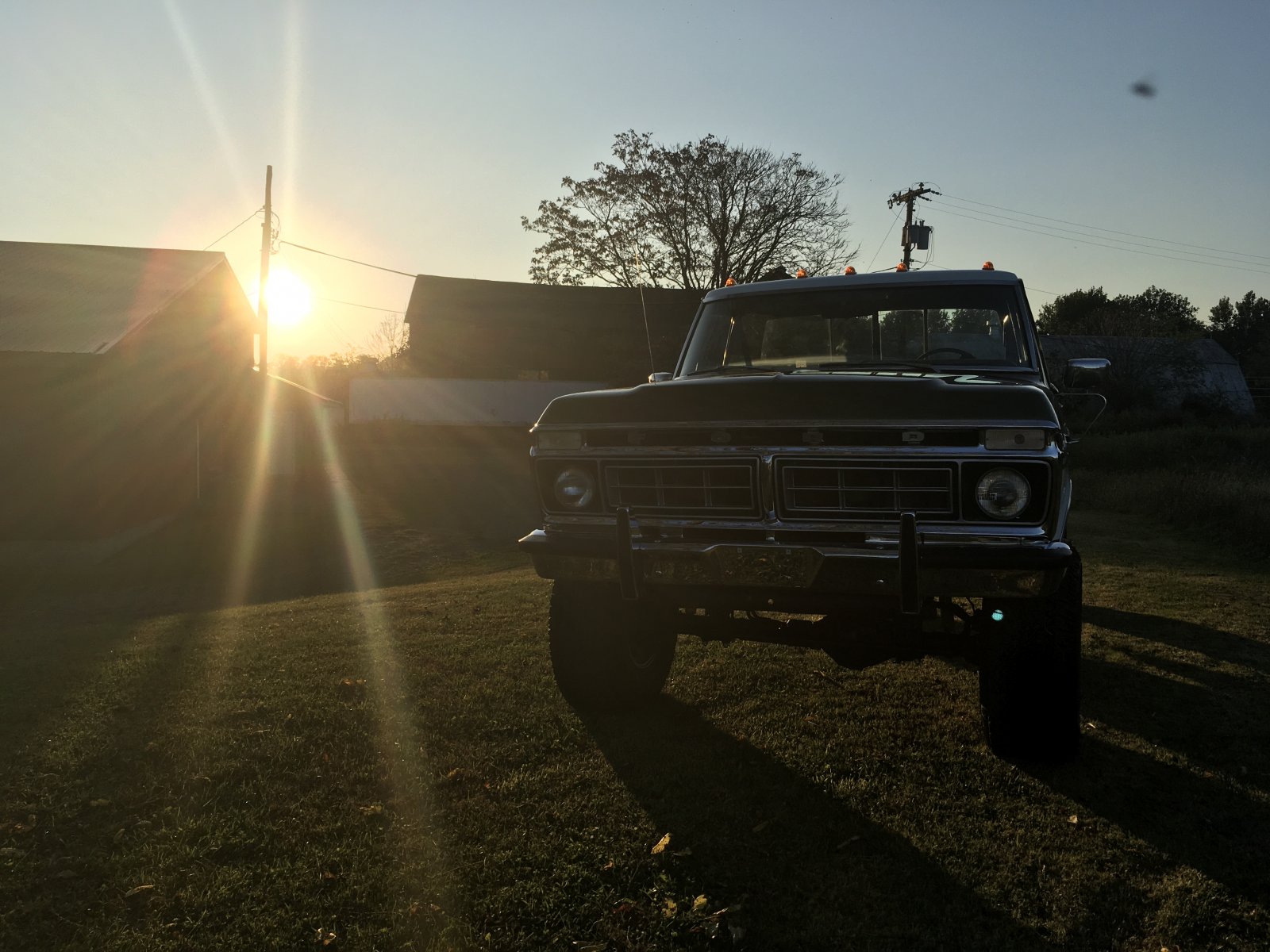 I plan on driving it on a regular basis while continuing to make the necessary upgrades and repairs. My end goal is to eventually give this highboy to my daughter as a first vehicle. We will see how that plays out.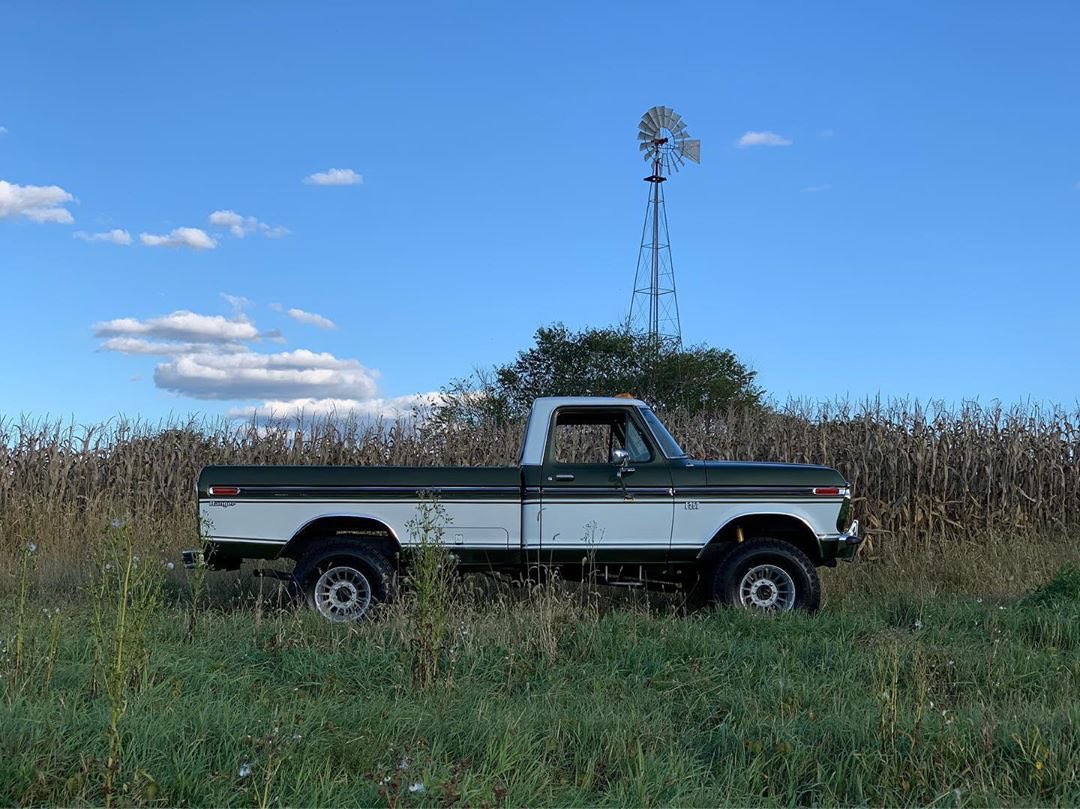 Below is a list of work that has been done to my highboy since my ownership back just a couple months ago in August of 2020.
- 2" leveling kit
- Western wheels / hurricane style
- Powder coat wheels
- New 35x12.5x16.5 Interco Tires
- Remove California noise reduction exhaust and replace w Flow Master / super 40 (2 1/2")
- New shocks
- Clean / undercoat undercarriage
- All new brake components
- steering component overhaul.
- Interior refresh / light overhaul
- Added cab lights
- Sound deaden roof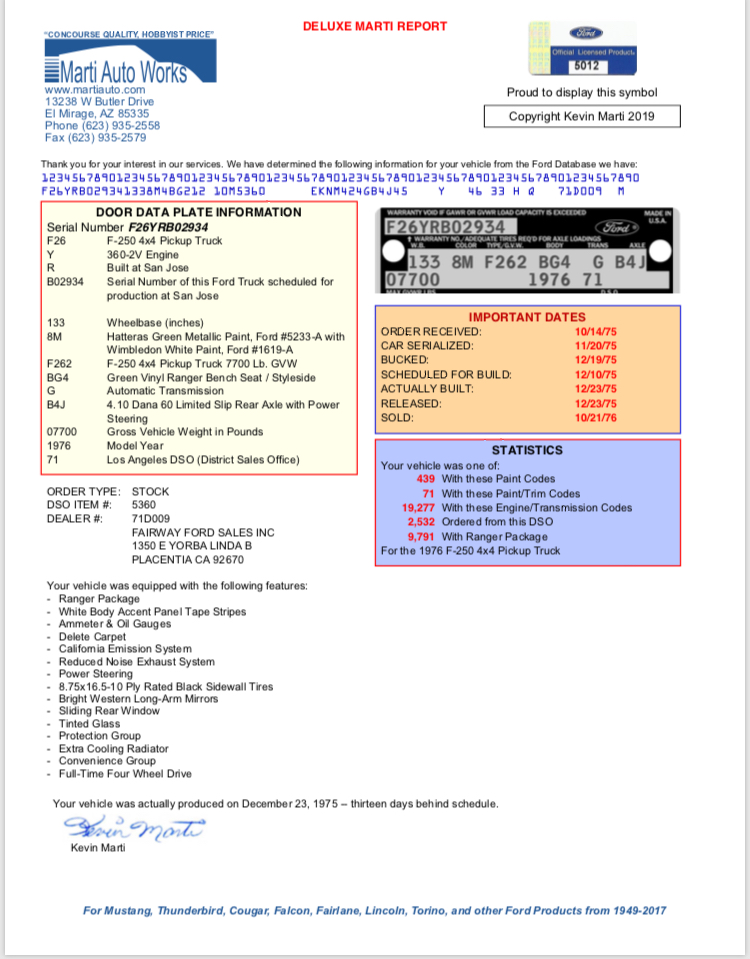 Thank you for taking the time to hear about my 1976 Ford F-250 Highboy Ranger.
Says: FordStangsDentsAndCrews (IG Page)