Well-known member
Staff member
administrator
Registered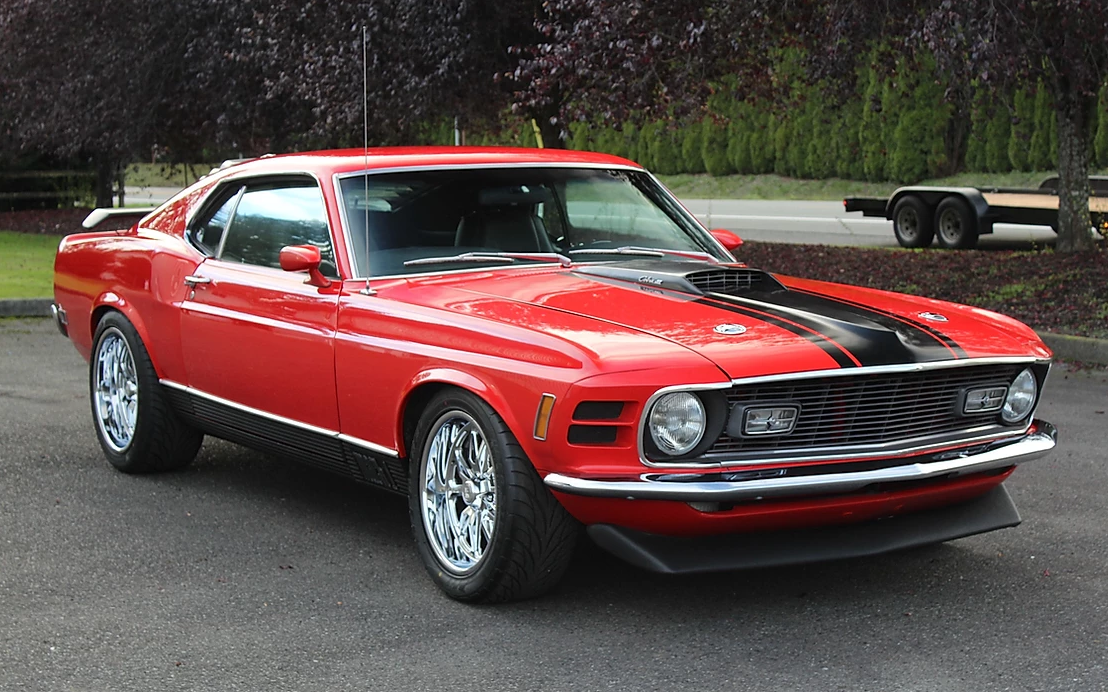 Looking for a Big Block, 5 Speed, 4 Wheel Disc Brake, Corner Carving Pony Car? Duh, of course you are.
In 1970 Ford made just 3,489 Cobra Jet Mustangs making this a very rare car. Most examples today wear smog pumps and skinny bias ply tires while living out there lives at judged car shows never knowing the smell of rubber and 125+mph wind in their grill. Not this Mach. It doesn't look stock. It doesn't sound stock. It doesn't drive stock.

Sure it is adorned with period spoilers and stripes, but the design is timeless. Add in the Viper Red paint, lowered stance and the custom 17/18" Chrome US Mag Wheels and some big fat rubber and the car looks screaming fast while its parked. The paint looks amazing with a finely polished finish. The moldings and chrome have been repainted, polished or replaced with quality components. Easily nice enough for weekend shows and bragging rights.
Inside the interior shows very well with new carpet, headliner, dash pad and front seat upholstery. Its no secret that the 69/70 Mach 1's had arguably the nicest interior of the era. From the cockpit design to the materials used they are quite impressive.
This Mach was originally equipped with Air Conditioning and the underdash components are still present. Several companies offer the under-hood or totally new component kits to complete this system.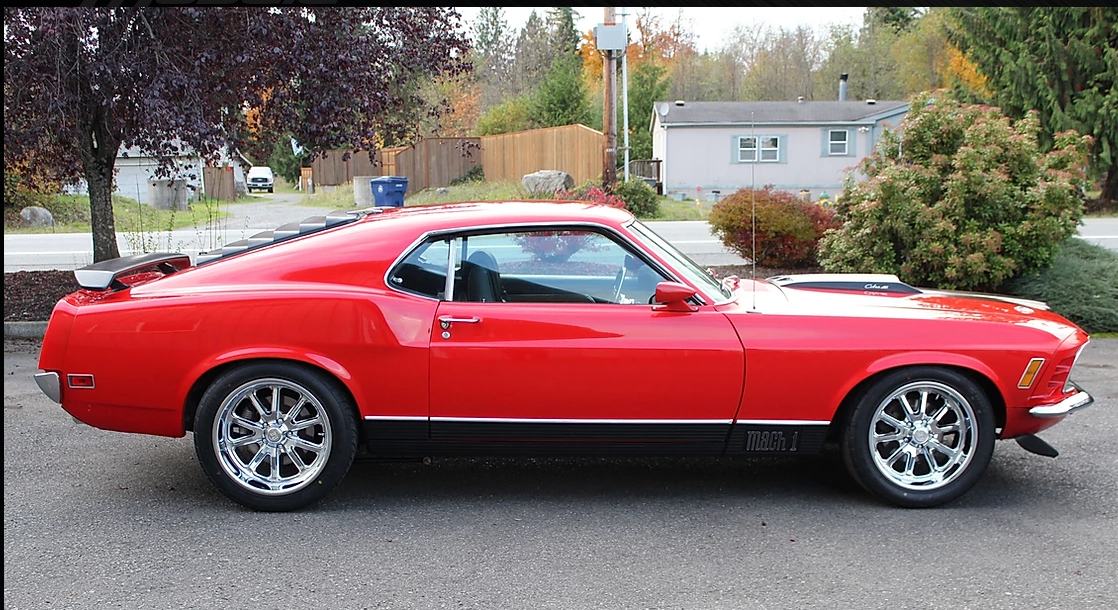 Under the hood lives a 428 Cobra Jet that has been topped with Edelbrock Aluminum Cylinder Heads and a Blue Thunder Aluminum Intake Manifold. The cylinder heads and intake save well over 100lbs of weight while adding stainless steel valve & hardened valve seats. The engine produces a very conservatively rated 450 Horsepower. The cam has a nice mild lope to the idle. It breathes through a set of Stan's headers and an X Pipe. The exhaust note at idle is deep and mellow, dig into the throttle though and the exhaust note is intoxicating. Highway driving is very comfortable at cruise thanks to the 5 Speed Overdrive Transmission that uses a Hydraulic Throw Out and heavy duty 3 finger clutch.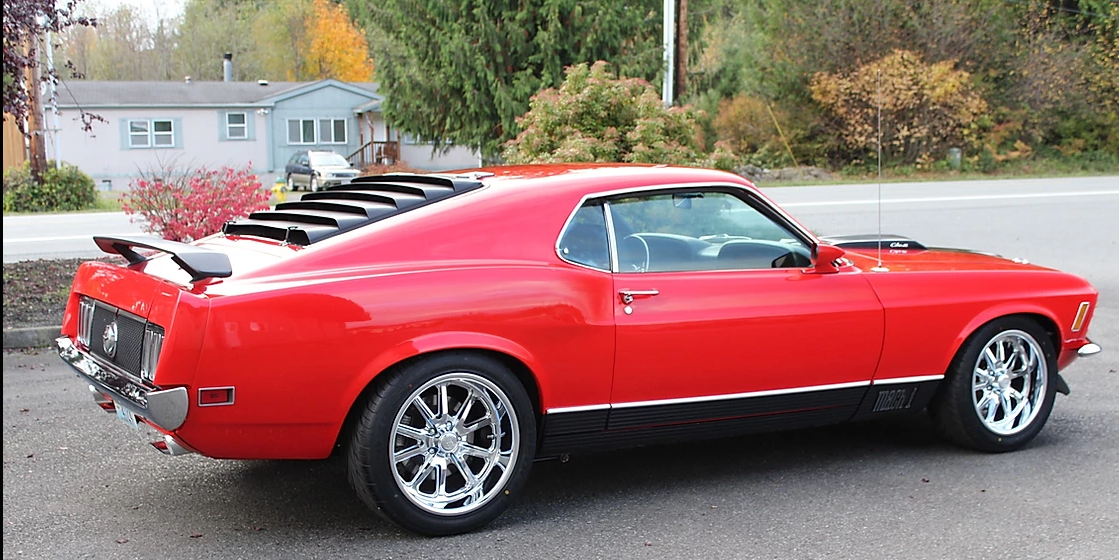 Factory Mach 1's handled very well compared to their competition. By today's standards they handle like lumbering wagons. Not this Mach. This Mach has been lowered with Eibach Progressive Rate Coil Springs, Heavy Duty Leaf Springs, Relocated Upper Control Arms, Negative Wedge Kit, Boxed Lower Control Arms, Larger Front & Rear Sway Bars & Shelby Traction Bars. Combine this suspension with the over 100lbs removed from the 428CJ and this Mach corners like a small block. The whole car feels planted and neutral in the corners. Should the need arise, the 4-Wheel Disc Brakes are incredibly confident and linear. This is a very well balanced car.

Interested? Give us a call at (360) 863-2241!