Well-known member
Staff member
administrator
Registered
This is a beautiful, ell-kept truck that lived on a Arizona horse ranch for many years.
Brought it to Austin, exas to run over all the moped's and Prius'.
A "Factory High Rider," meaning it is not lifted, ather a stock suspension found on factory 4x4 F250. Class IV towing package - rear, lass II -front
Electric trailer brakes (recently professionally tested)
New stereo/speakers
Great Cooper Tires
Factory A/C - needs compressor though(didn't get around to modernizing that)
Recently tuned, rakes, lugs, tc.
New paint.3rd owner. Drives beautifully!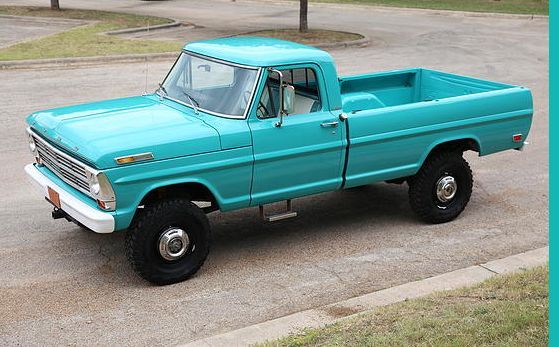 One helluva truck! Used in a couple of movies in the past year(Dazed and Confused sequel down in San Marcos last fall).
Title is still from State of Arizona. Not having window tags helped with the movies.
Basically my weekend, how-boating truck. It's one of a kind.
HISTORY of HIGHBOY:
The term 'Highboy' has been used to refer to 1967-1977.5 Ford F-250's, lthough 'Highboy' wasn't actually a Ford term.
The term 'Highboy' was more of a nickname that came about when Ford switched to a negative arch leaf spring for the 1977.5 model, aking it 4-inches lower than the 1977 model.
For a Ford truck to be considered a 'Highboy', t should meet the following criteria:
1967-1977.5 Ford F-250 4x4
Divorced Transfer Case (Not attached to the transmission)
A Highboy will have (3) driveshafts
The front spring pack will have a noticeable arch (1977.5 and later are flat)
Rear springs are 2-1/4" wide. 1977.5 and later non-Highboy's will have 3-inch wide rear leafs.
Front axle choices in the Highboy were either the 8-lug Dana 44 or the low pinion Dana 60.
Engine choices were either the 6-cylinder or 360 2 bbl V-8. Steering was either manual or power ram assist.
F-150's built during that time are NOT considered a 'Highboy'. The F-250's built from 1977.5 and later are referred to as a 'Lowboy' because they sit lower than the 1977.