Well-known member
Staff member
administrator
Registered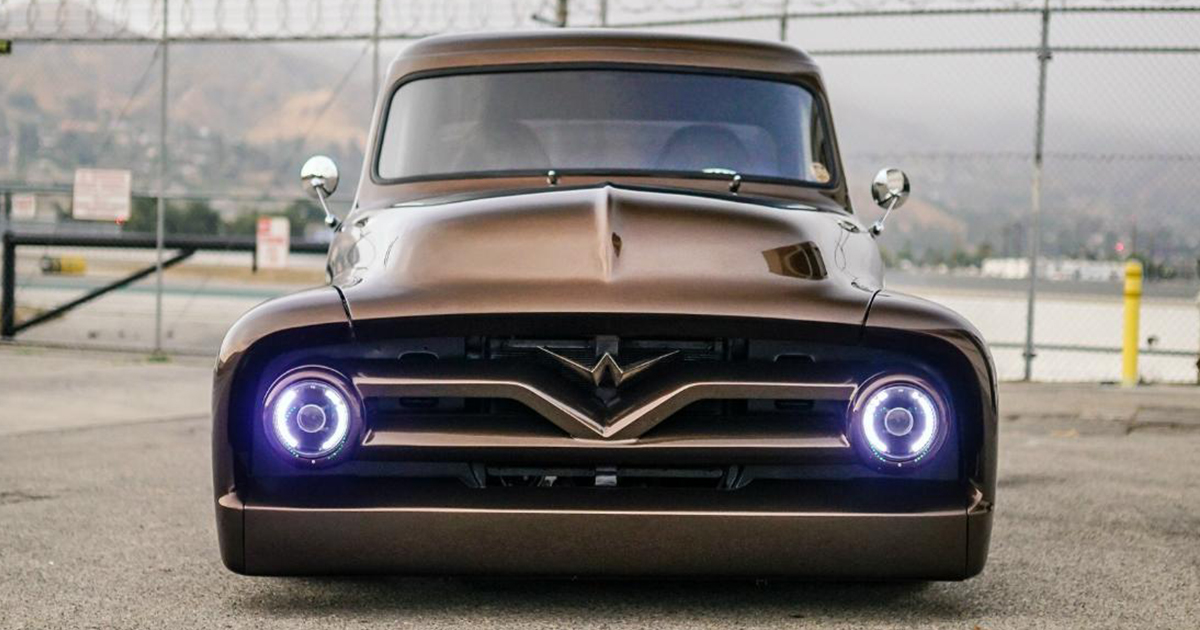 Lukasz Granicy (pronounced LU-KAZie) grew up around vehicle customization. His father had been an award-winning customizer since the '60s, and Lukasz benefitted from watching and learning from his dad. Lukasz has also had the opportunity to work alongside hot rod greats like Gene Winfield, where he learned and excelled in the arts of metal fabrication, welding, paint and bodywork. In 2000, Lukasz started his own fabrication shop, Needfulthingz Hot Rods.
In 2014, Chris Beatty approached Lukasz to build his holy grail 1955 Ford F-100 project. Since the truck would have a "Coyote" engine, the truck was built to be what Wile E. Coyote would have built if he wanted to chase down the Roadrunner. Lukasz put his heart & soul into this build. With his expertise and creative innovational foresight, no aspect of this truck was untouched. TIG welded from the frame up, The Coyote came to life!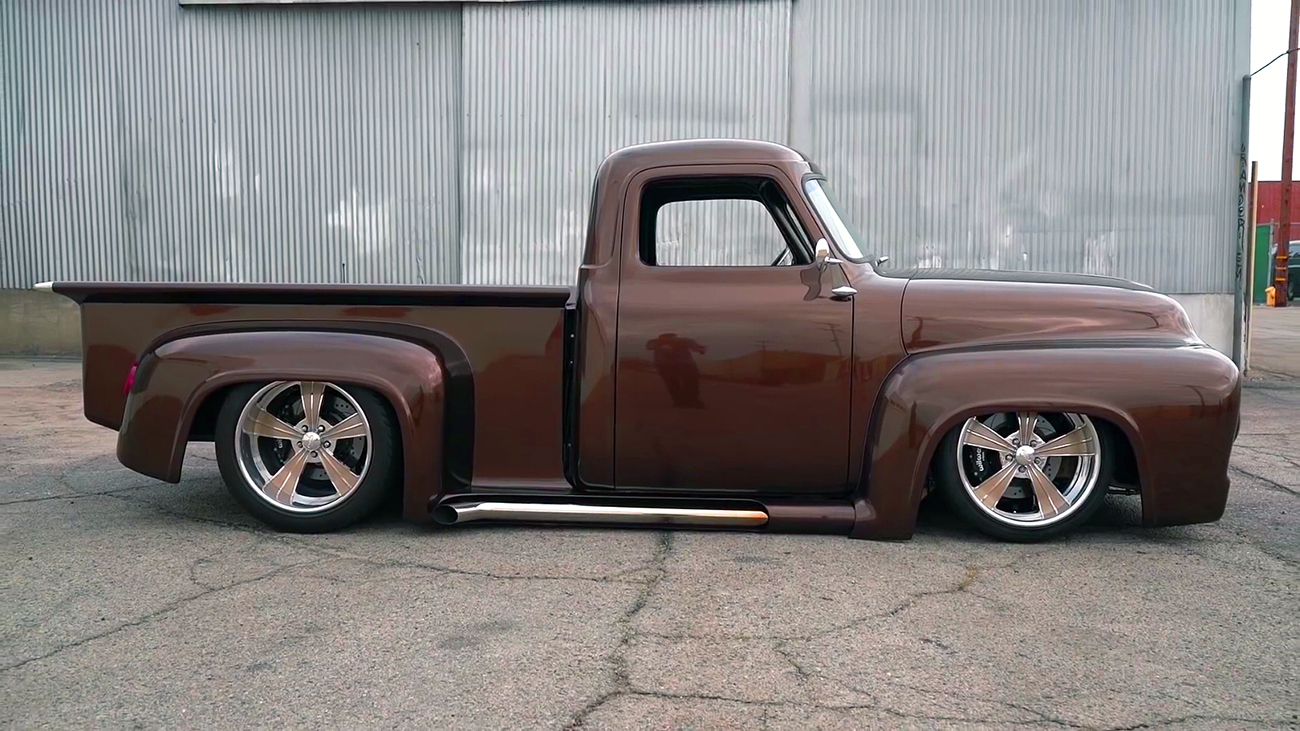 The F-100 is powered by a Ford 302 cubic-inch, 5.0-liter small-block Coyote V8 engine with Kenne Bell Mammoth 3.2LC Liquid Cooled supercharger on top, and is mated to a four-speed Ford 4R70W automatic transmission with overdrive. Lukasz crafted a four-point reinforced roll cage and stuck with the performance theme by incorporating leather covered Sparco racing seats expertly wrapped by Santos Upholstery. Black walnut and curly maple adorns the cab in the form of a custom center console and door panels that house audio gear and the AccuAir e-Level controller. Oneoff "CB" (for owner Chris Beatty) monogrammed material wraps the door panel and headliner for a subtle, personalized touch.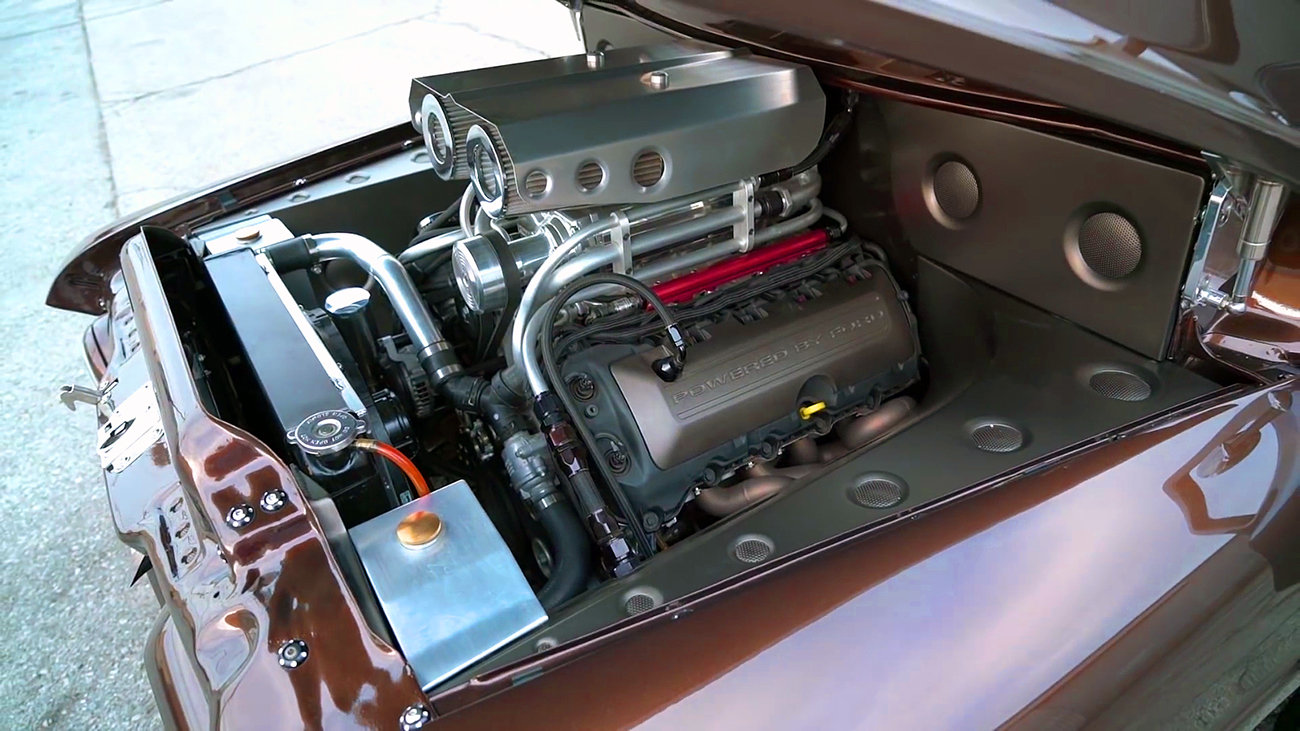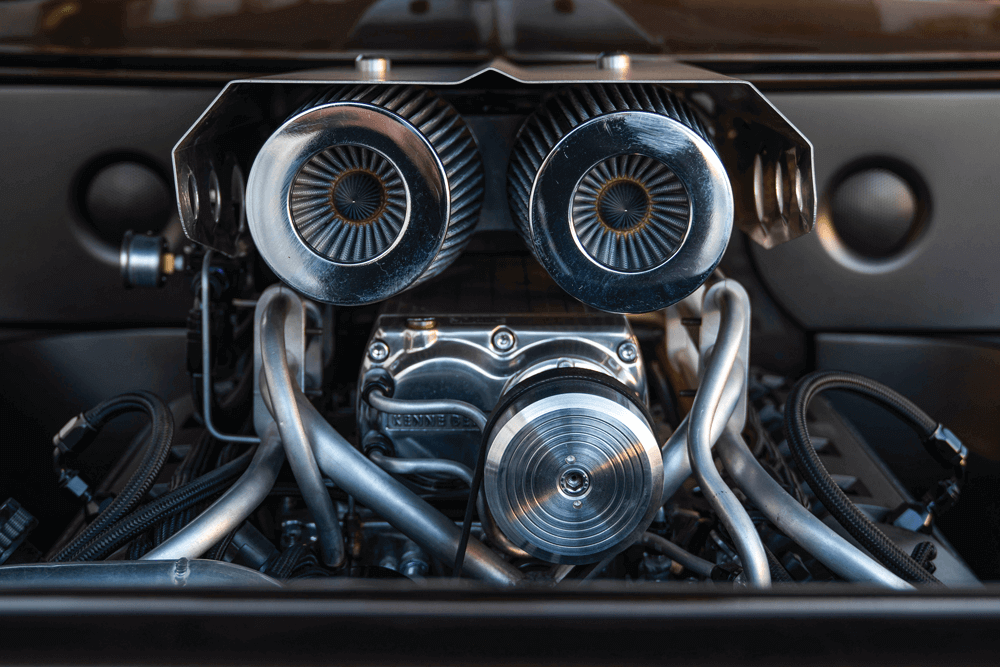 Lukasz built a custom boxed and Z'd frame as a foundation for the chassis setup. From there, a Mustang II front clip and rear upside down triangulated 4-link, complete with an adjustable weight cantilever distribution, were introduced to the new frame. Fox shocks assist in softening the blows from the road, and AccuAir air management helps orchestrate the air ride system consisting of top-shelf wares like the Slam Specialties 'bags and air manifold and dual Air Zenith air compressors. As far as rolling gear for the chassis, Lukasz felt it necessary to stick with reasonable wheel diameters for the Intro wheels in front, but he did splurge a bit with the 15-inch wide rear wheels. That's a lot of meat for a truck like this to stuff underneath the bed, but he fit them in perfectly.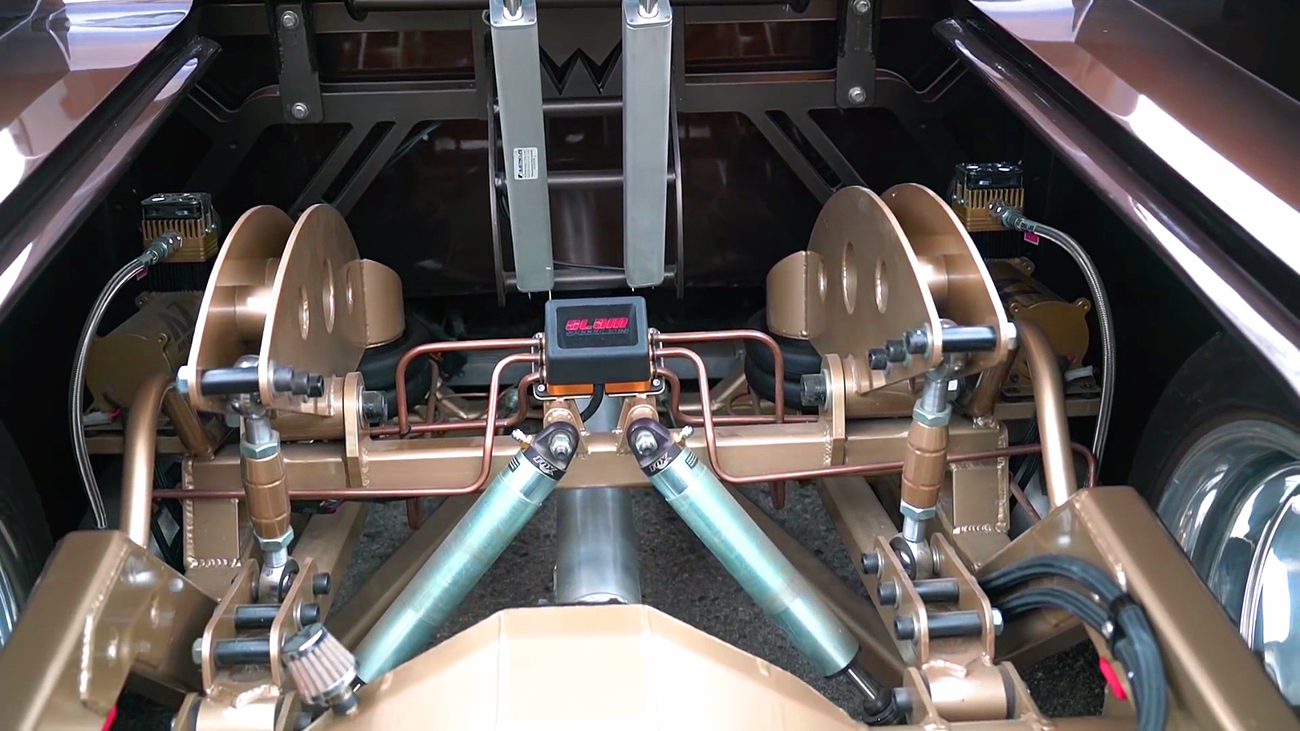 Aside from shaving some necessities from the truck's surface—door handles, rain gutters, vents and emblems—there really hasn't been much added to the façade. The front grille received a pretty radical restyling, as did the rear, with its molded tailgate and Chevrolet Cobalt taillights frenched into the rear fenders. The real shining beacon on the Ford's exterior, however, is the amazing bed floor. The contoured bed floor not only features a luxurious combination of walnut and maple, but the entire floor lifts up via actuator, exposing the powder-coated frame and chassis components. Lukasz wanted to create a one-off bed in the past, and the F-100 was the ideal opportunity to pull out all the stops.
The Coyote has become a fan favorite at SEMA and a contestant in Battle of the Builders along with various shows through out California.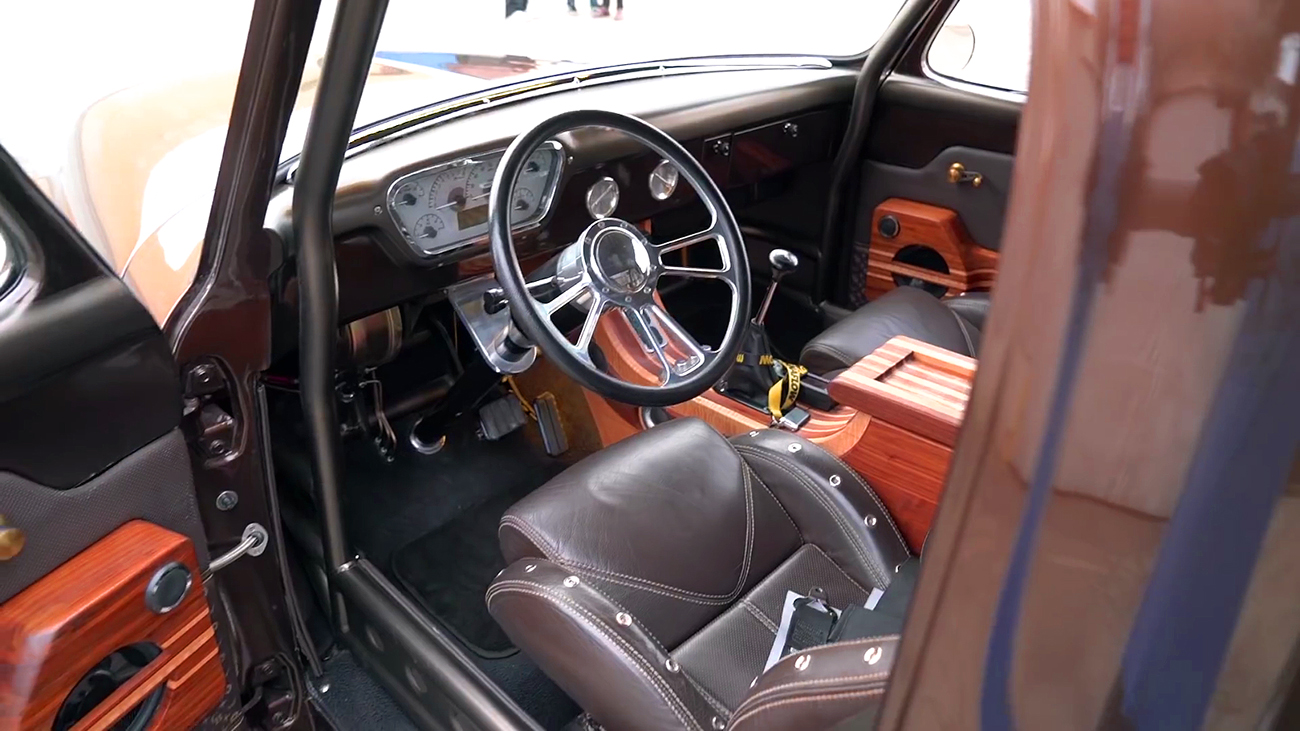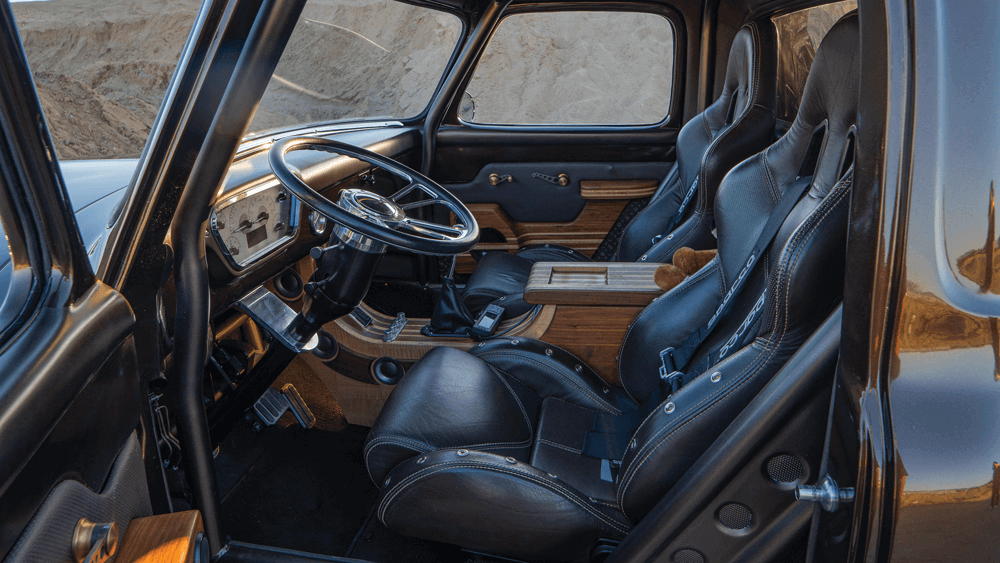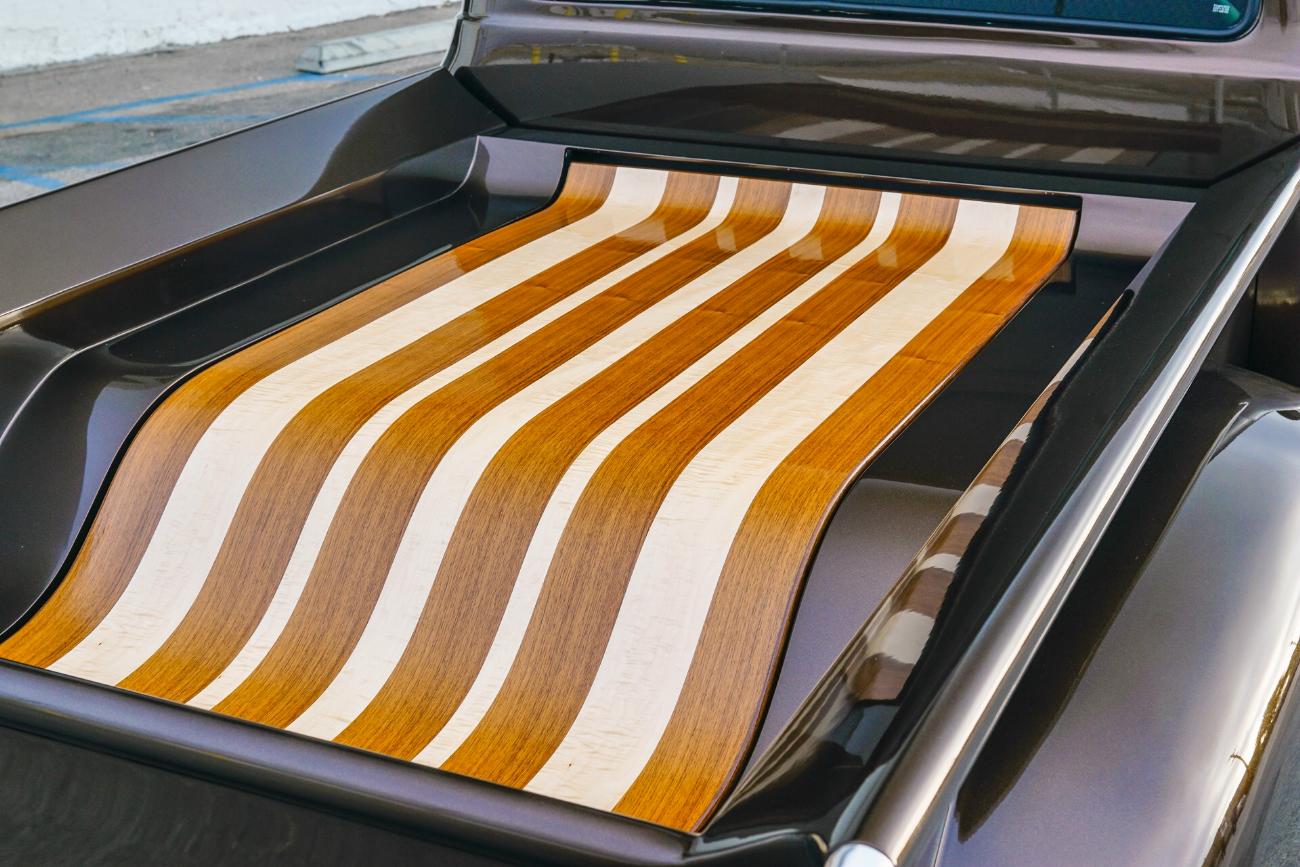 Specifications
Engine:
5.0L Ford Coyote
AEM Infinity standalone engine management
Kenne Bell 3.2 supercharger
Injector Dynamics ID 900 injectors
Aeromotive fuel system
Powermaster starter
Painless Performance wiring harness and accessories
750-horsepower
Exhaust:
MagnaFlow custom fabricated 3-inch, frame hugging exhaust system
MagnaFlow headers
Transmission:
Performance Automatic 4R70W controlled by HGM Compushift
Two B&M transmission coolers
Chassis & Suspension:
TCI Mustang II front suspension
Slam Specialties bags and manifold
Dual Air Zenith air compressors
AccuAir air management system
Fox shocks with double dimple die brackets
Custom-fabricated upside down triangulated 4-link
Adjustable weight distribution cantilever system
Fully powdercoated, boxed and Z'd frame
Energy Suspension bushings
Fox Shocks with double dimple die brackets
Currie 9-inch rear axle
4.11 gears
Wilwood six and four piston calipers, 14-inch rotors
Paint & Body:
PPG Coyote Brown paint
TIG welded 3-inch roof chop
Shaved door handles, rain gutters, gas filler, fresh air and side vents, emblems and bumper holes
TIG welded grill
Redesigned front valance
Roll pan
Frenched Chevy Cobalt taillights
One-piece side window conversion
Dapper Lighting custom #7 yellow headlights
Eddie Motorsports billet hood hinges
Mid-Fifty F-100 parts accessories
Double-walled F-100 bed with radius corners
Custom fabricated rear fenders
Variegated black walnut and curly maple bed floor
High gloss wood bed cover rises via remote actuators
Interior & Stereo:
Sparco racing seats with brown leather upholstery
Four-point seat restraints for style and comfort
Custom handcrafted black walnut and curly maple center console and matching door panels
Dimple die openings for AC and heat vents by SoCal designs
Vintage Air AC and heat
Dakota Digital restomod style gauge cluster
Rockford Fosgate sound system
Ididit Touch-N-Go steering column
QuietRide Solutions deluxe insulation
Needfulthingz designed four point reinforced roll cage with dimple-die accents
Backlit LED lighting throughout the cab