Well-known member
Staff member
administrator
Registered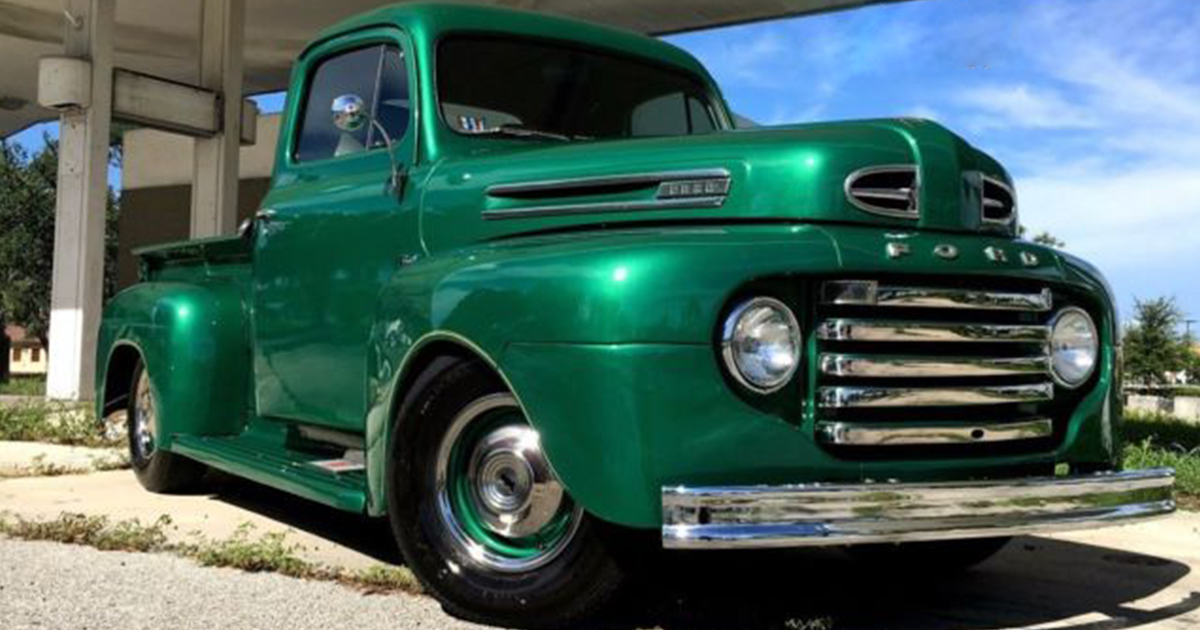 This stunning 1950 Ford F-1 combines classic original looks with all the best modern components like A/C, PS, Disc Brakes, Mustang II steering rack, power seat, and more! his truck just completed an extensive refurbishment less than a year ago, and over $15,000 in documented receipts show the extent of the complete mechanical upgrades and modifications it received. Originally built in 2007, the truck amassed about 7,000 miles before the owner decided he wanted to make the truck worthy of an epic Route 66 run he had been dreaming about.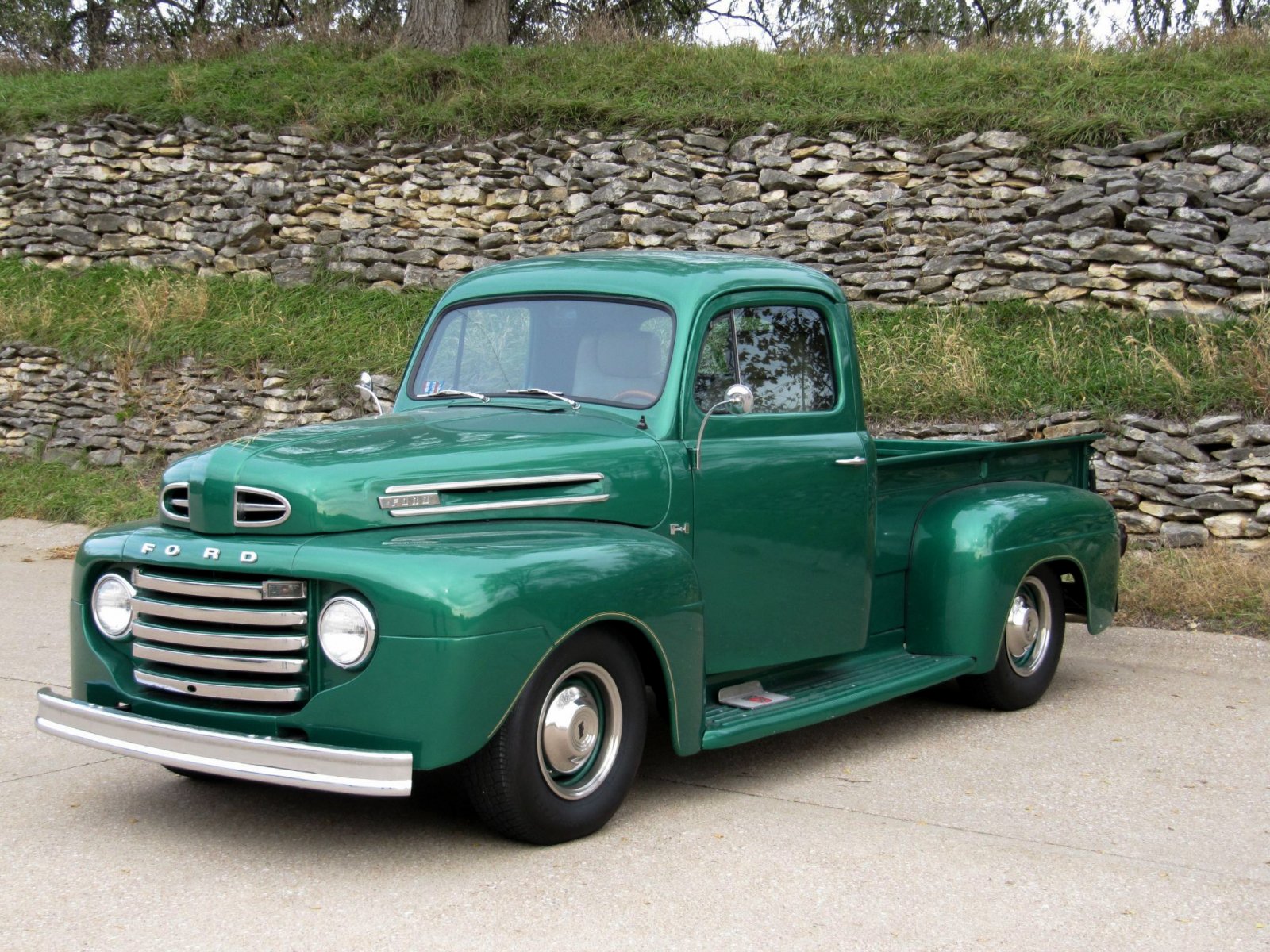 In 2015, the truck was torn down, and over a year was spent completely transforming the mechanical and functional aspects of the truck to a level that matched the beautiful paint and body. An old 350ci CI V8 was scrapped in favor of a fresh, block-up build on a Corvette 327ci motor with an estimated 375hp! The motor was purpose built to be long-haul capable, and performance mods were kept to a minimum in the interest of fuel economy, reliability, and ease of maintenance.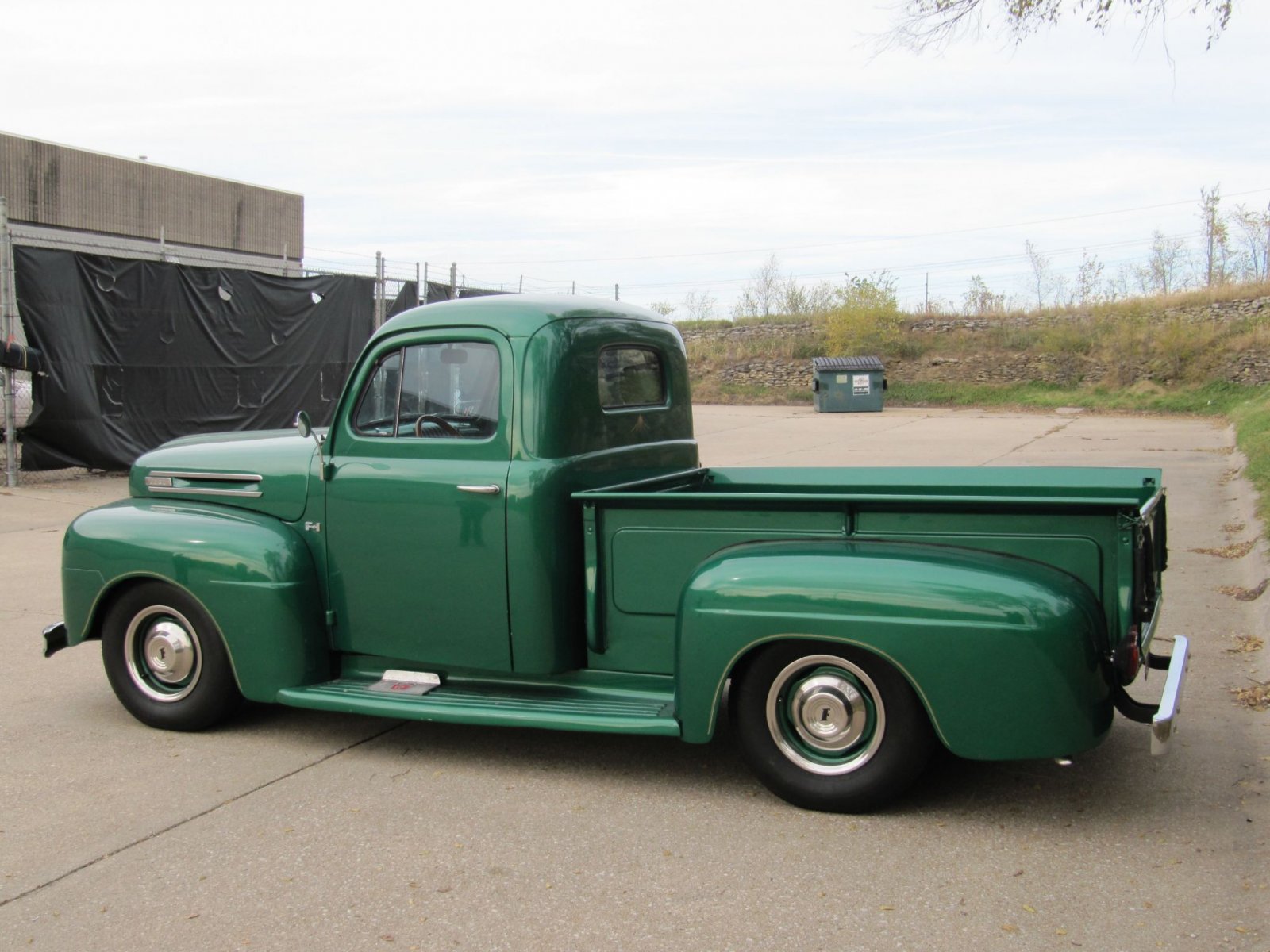 It was dressed in black valve covers with polished fins, chrome air cleaner, polished block-hugger performance headers, MOON breathers, and all the new goodies an engine needs like water pump, alternator, starter, performance plugs, new hoses, new lines, and more. An entire new Air Conditioning system was installed and is R134a throughout, and it blows so crazy cold on setting ONE that I haven't needed to run it any higher even in our hellish Florida summer! Fan setting THREE is enough to freeze meat I bet!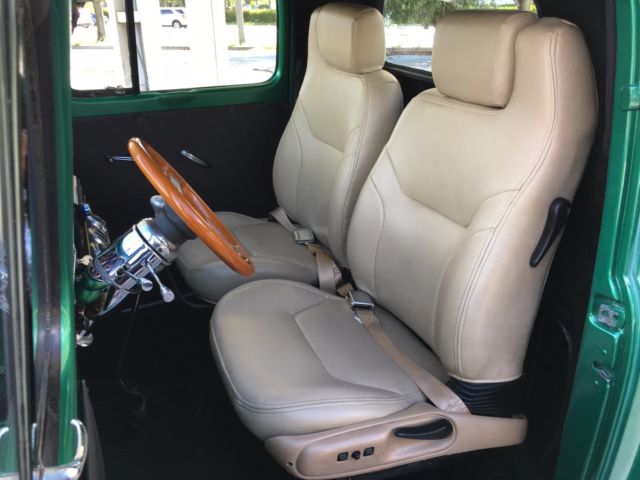 A polished hi-flow aluminum radiator was sourced for the truck, and it keeps operating temps between 180 and 188 at ALL times. A 16" Flex-A-Lite fan and shroud, DELCO Thermostat, and DELCO fan control relay work perfectly, and I have never seen it go over 188, even when driving this truck on a 200 mile round trip. Everything under the hood was essentially pulled and replaced in 2015/2016, including the complete Power Brake system from the booster to the Disc, transmission cooler, LOKAR throttle cable, new fuel lines, new fuel pump, and more!
The original FORD straight axle front end was scrapped in favor of a BRAND NEW Heidt's MUSTANG II power steering rack, with lowered coiled springs and shocks, hub upgrade for 5x5.5 wheels, dropped disc brake spindles, tubular A-arms, rack extenders, and a new steering shaft from the tilt column to the rack. Power steering pump, hoses, adaptors, and fittings all got an upgrade, and everything works perfectly, and has been proven reliable on a cross-country trip! Out back, brakes were redone with new drums, shoes, lines, and hardware, and the rear got performance shocks with a flip kit to keep it low and level with the front.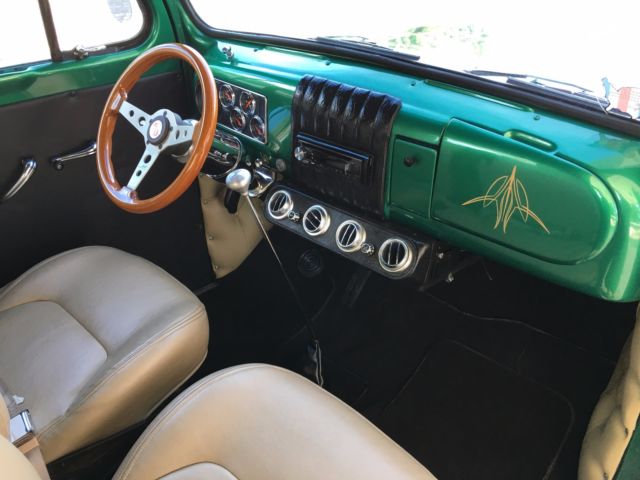 The rear end got a set of new 3.55 gears which let it cruise at 75mph all day long without overworking the motor. A custom exhaust was fabricated for the truck integrating a set of MAGNAFLOW Mufflers which give the truck a really mellow rumble at idle, a nice bite under throttle, and keep things from being too noisy in the cab on long trips.
The GREEN ENVY finish on the exterior of the truck is still shiny, glossy, and vibrant, and shows only the normal little scuffs, stone chip, and other small blemishes you would expect on any vehicle driven over 10,000 miles. Take a look through the 100 EXTRA-LARGE and detailed photos below, and you will see that it looks good from every angle, and none of the blemishes are even big enough to really show in photos.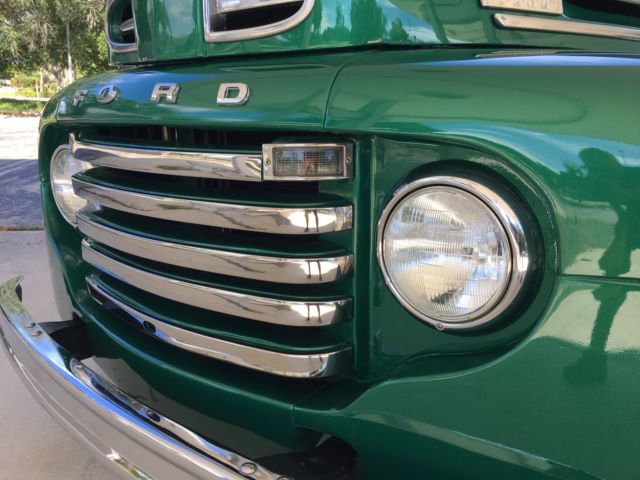 I just want you to know they are present, so you aren't expecting a showroom new finish. Gold pin stripes set of the exterior around the front and rear fender well openings, the hood, and the gold FORD lettering on the tail gate. The body is ALL STEEL, and there are NO fiberglass components on the truck. Hood, Cab, Bed, Front and Rear Fenders, and the Running boards are ALL STEEL!