Well-known member
Staff member
administrator
Registered
At the heart of the drivetrain is a pro built 514 cubic inch Ford big block developing 550+ HP backed up by a race prepped Cone C6 transmission. The engine features aluminum heads. intake and runs on 93 octane fuel. The engine also incorporates a Mallory ignition system. March billet serpentine belt system. and custom heavy duty aluminum radiator. Power is directed through custom CV driveshafts into custom built axles featuring disc brakes and a custom hydro-boost system for ultimate braking power.

The complete body off restoration and customization was professionally performed by Truck Toyz Performance of McAllen. Texas.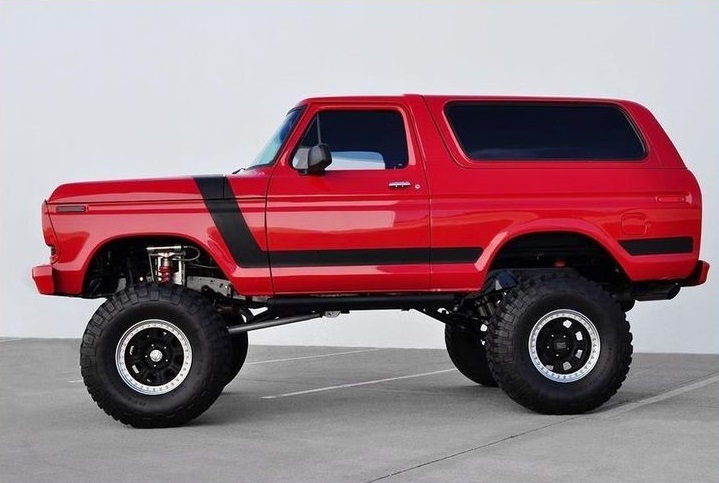 The suspension system was custom built around King coil-over up front and Deaver springs in the rear. In addition the entire chassis was stripped powder coated. All of this rolls on 37" BF Goodrich KM2 tires and 17x10 Raceline Monster Beadlock wheels.

The body of the Bronco was completely stripped and block sanded then covered in beautiful bright red paint with custom matte black stripes. Then the factory chrome trim and bumpers were color matched to the bodywork for a modern appearance. And to make reaching the cabin as easily as possible. custom electronic power steps were incorporated into the underbody.