Well-known member
Staff member
administrator
Registered
This truck belongs to a celebrity rather than a trucker or trucking company. Normally we'd only show trucks that belong to truckers, but I think everyone would welcome this truck and driver to a backyard barbeque because it's owner, "American Trucker" TV personality Robb Mariani, is very enthusiastic about the trucking world. This is his truck, a Ford W9000 cabover that was photographed by Daniel J Linss. Both Mariani's grandfathers were truck drivers, Rudy drove for Yellow and Gateway, while Emil drove B-model Macks for Schlitz, delivering beer to bars – which is how he met Robb's grandma. Mariani really liked from childhood the movie "White Line Fever" from 1975 and the "Blue Mule" Ford cabover that co-starred.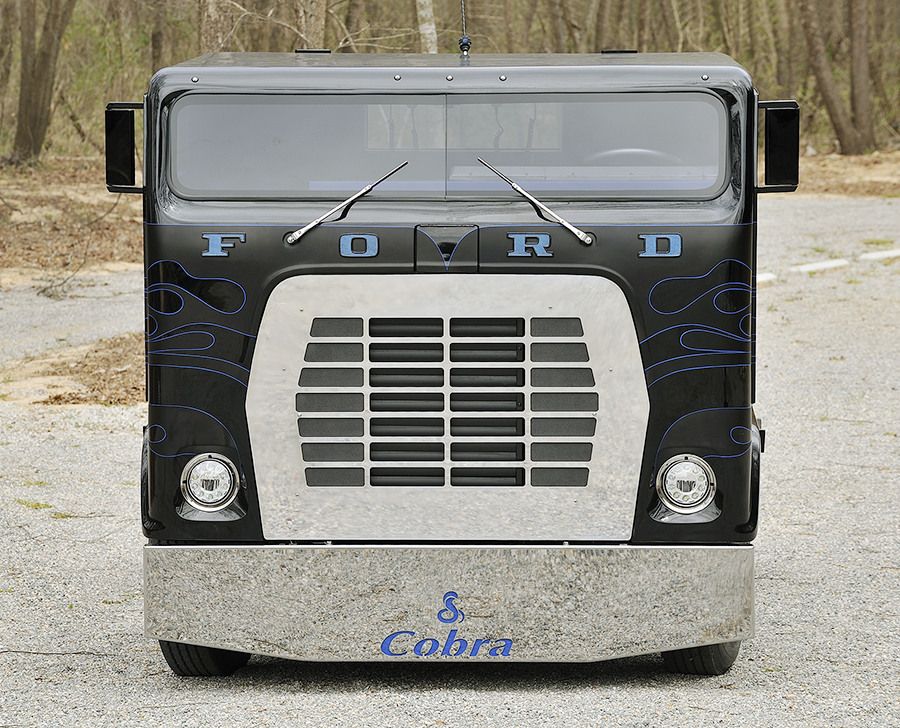 Mariani found a Ford W-Series semi truck and bouth it. It had previously served in the 1970s on the Tennessee Highway Patrol, then it hauled cars around a lot, and had only 53,000 original miles in 2003 (it's a 1974). "Robb, Brad and a handful of others transformed the old W9000 into an amazing rig, which Robb describes as "the workin' man's hot rod" – partly because Robb considers himself to be a workin' man, and partly because the Ford W9000 was not a fancy truck – it was a worker." The trucking publication said the truck was the first Ford to be on the cover of the magazine in over 20 years of business. Not only that, they sort of didn't even attempt to describe all that was done to the truck. It "would require several more pages" they wrote, noting that the interview with Mariani had been 4 hours long. They outlined the mods and the final product: "Looking for that true "hot rod" look, the guys chopped thirteen inches off the top of the truck, took nine inches out of the rig's original Reyco suspension, and then shaved off all of the door handles and vents for that clean look. Extensive modifications were made to the cab and chassis to get everything lower and cleaner.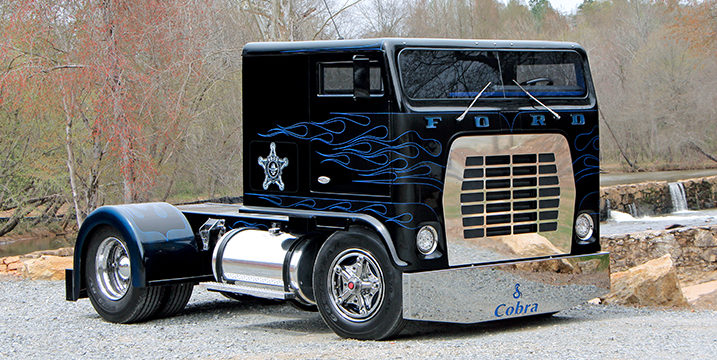 The battery boxes were removed (the batteries were relocated to a compartment between the frame rails) so the fuel tanks could be moved forward as far as possible, the air intake for the Ford's original 290 Cummins was removed and replaced with a custom louvered rear cab panel, a window was cut into the back of the cab, and 79 holes were plugged and filled in the frame. A square dual exhaust system was fabricated from scratch, along with custom steps and mirrors. The side wind-wings were also removed from the doors and replaced with one-piece electric windows." Then, among other customizations, they added the paint to the ford custom semi. Linss also pointed out the Dayton chrome-plated wheels and how these help to give it a 70's semi cruisin vibe.