Well-known member
Staff member
administrator
Registered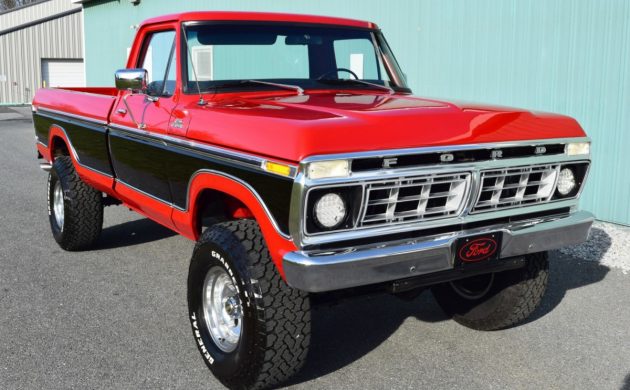 There's nothing quite like venturing out into the wilderness, and this 1974 Ford F-250 Highboy 4×4 should be able to get you virtually anywhere in both style and comfort. With flawless presentation and a stroker V8 under the hood, this is a vehicle that has so much going for it. If this is one that grabs your attention, then you will find it located in Manheim, Pennsylvania, and listed for sale here on Bring A Trailer. Bidding on this seriously tough truck has now reached $19,000.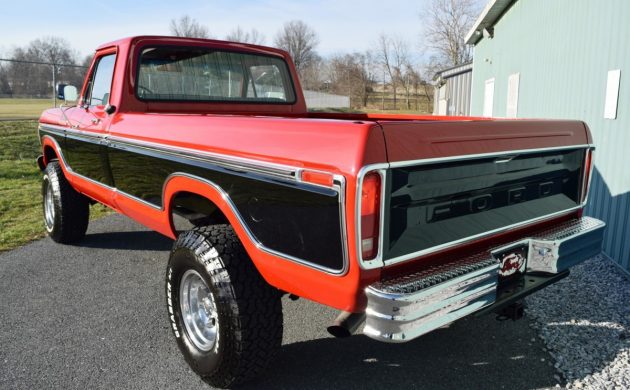 The Ford is now on its third owner since new, and it is this owner who has turned a humble F-250 into the fire-breathing monster that you see here. The vehicle was originally finished in Candy Apple Red, but as part of a total refurbishment, a fresh coat of two-tone red and black was applied. And it wasn't just the top-side of the vehicle that received a refresh, because the underside is totally spotless. The bed hasn't escaped attention, and that looks brand new. Forget about rust, because that simply isn't an issue. There is none visible anywhere. The external trim and chrome are close to perfect, and while the owner also fitted a '77 grille insert into the F-250, the original is included in the sale. The weatherstripping around the doors and glass has also been replaced, but your eyes can't help but to be drawn to those wheels. Those are Pacer aluminum wheels, measuring 16×10″. These have been wrapped in a set of General Grabber A/T tires, and while the owner doesn't refer to them as new, they show no real wear. Poking out from under the bed is a receiver hitch, meaning that this beast is also set-up to do the odd spot of towing as well.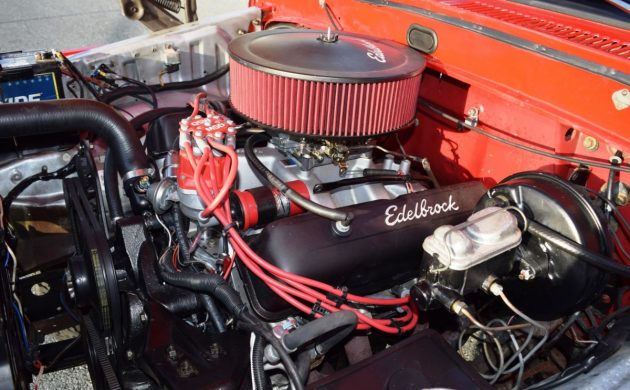 'd be very willing to bet that when you lift the hood on your average F-250, you won't find anything that looks quite like this lurking in the engine bay. This piece of cast iron started life as a 390ci V8, but why settle for that when you can have more cubic inches? The 390 has been treated to a Scat crankshaft kit, and engine capacity is said to now be increased from 390 to 445ci. The mechanical goodness just keeps on coming with the addition of TRW pistons, ARP fasteners, Harland Sharp roller rockers, an Edelbrock Performer RPM Top End (aluminum heads, intake, and camshaft), a Holley carburetor, MSD ignition, and a re-cored radiator. It isn't clear how much power this combination produces, but if you said "plenty," then you'd probably be right on the money. All of that power is fed through a C6 automatic transmission, while the Ford is equipped with a Posi rear end, power steering and power brakes. The Highboy also features a dual-range transfer case, with the front axle being fitted with Warn manual-locking hubs. So, how does it go? Don't take my word for it, but check out the video at the bottom of this article. The engine sounds amazing, and this old girl gets up and moving very quickly.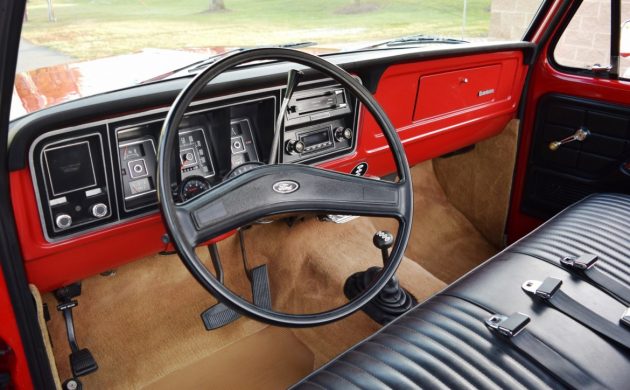 Last edited: