Well-known member
Staff member
administrator
Registered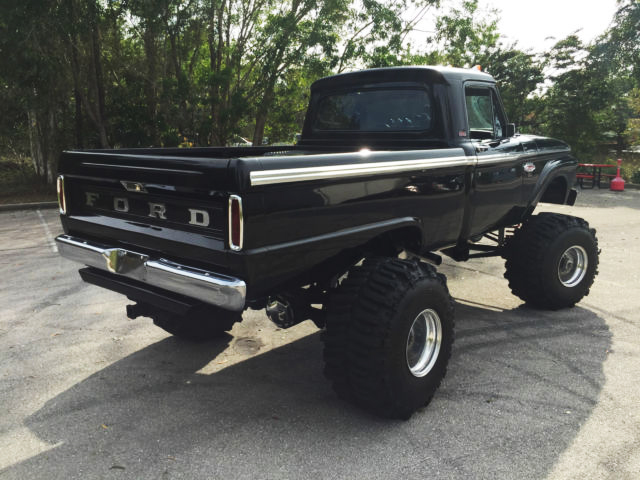 1966 Ford F-350 F100 XLT RANGER 1 TON 4X4 4WD F-350 CHASSIS
Built locally here in SWFL, this incredible truck started with a ground-up built chassis that came from a 1979 FORD F-350 1-ton pickup truck. The body was removed and scrapped, and then the frame was stripped bare, cleaned, de-tabbed, and treated to rust preventative and clean black paint.
The front is a DANA 60 that was completely rebuilt using YUKON parts and new splines, which also went into the rear DANA 70.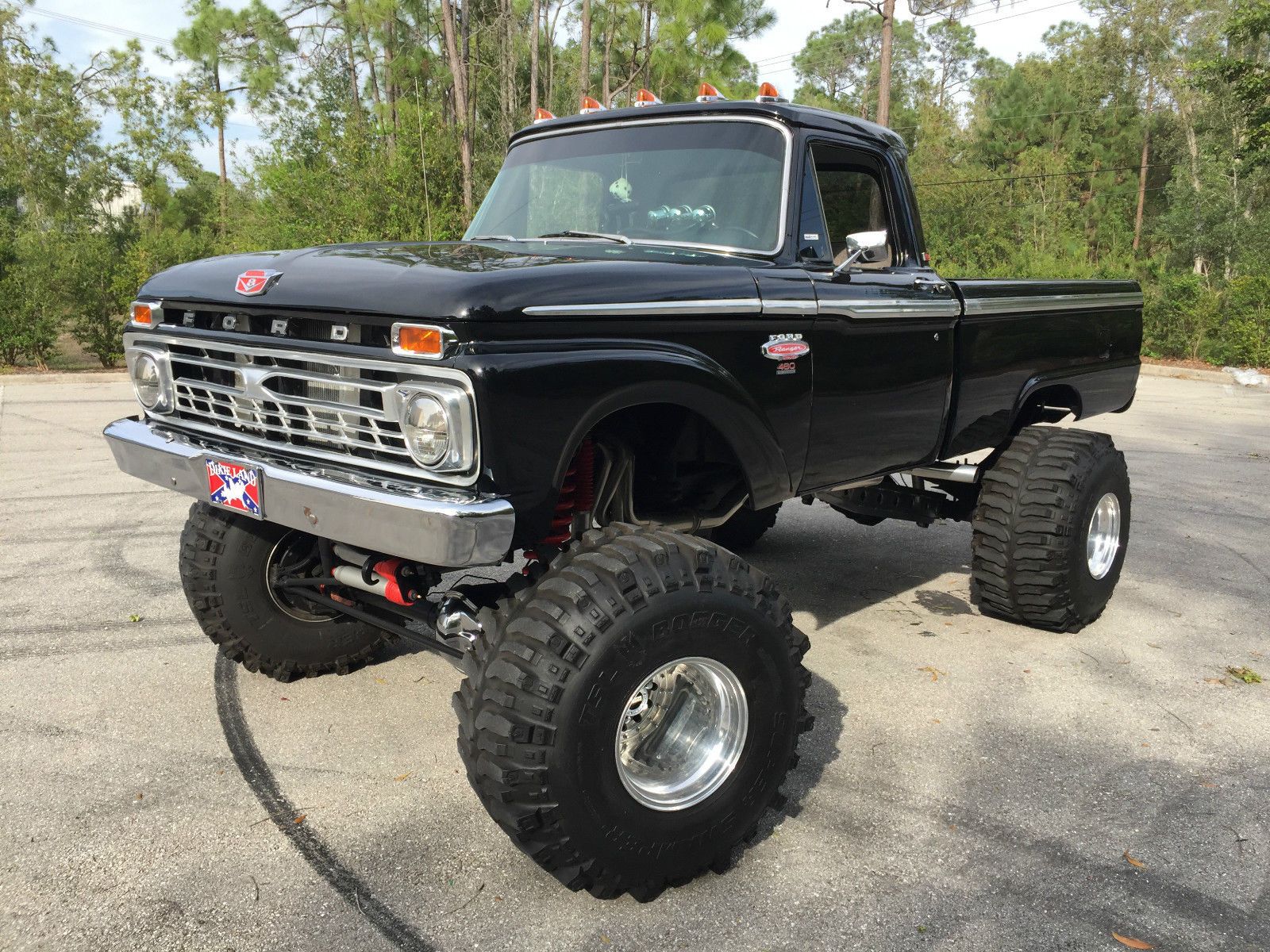 An NP205 transfer case activates the 4wd, which works as it should in low and high.
Front leaf springs were ditched in favor of shocks and coils, while the rear gets shocks with leafs, and the truck has a surprisingly nice ride on the highway with more than enough travel and flex for having fun too
.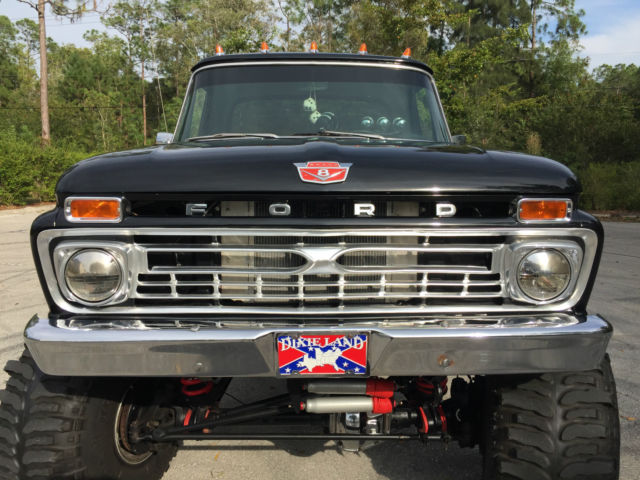 Steering was all rebuilt and the stabilizers and power assist make it so easy to steer and handle that your Grandma could drive it.Custom fabricated aluminum ladder bars look great and work great too, and the chrome covers dress the front and rear pumpkins nicely.It rolls on 15x8 WELD show-polished aluminum wheels wrapped in SUPER SWAMPER TSL BOGGER tires, size 18x39.5x15LT, which will pretty much roll over anything that gets in your way.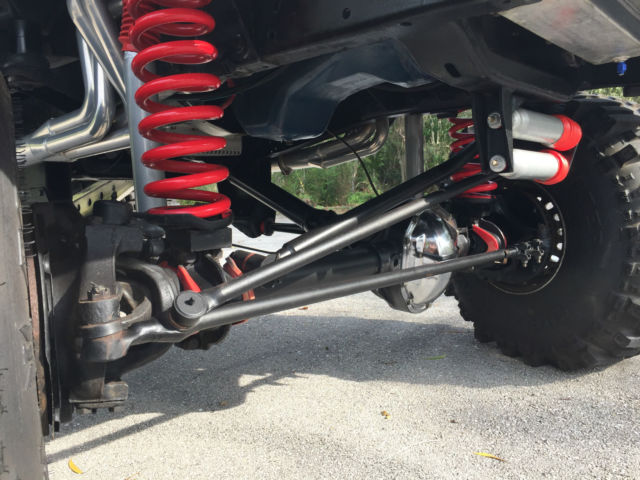 The custom-made full show polished aluminum exhaust goes from the coated headers back, and sounds absolutely AMAZING, even at idle! Blip the throttle and it sounds like a drag car with a lift kit! The underside is clean, solid, rust and rot free, and if you take the time to clean and detail it, it will look even better. Maintenance and lubrication has been kept up and everything does what it should. Twin electric fans keep the transmission running cool, and one look underneath will show that the application built FORD C-6 transmission is still like new, and leak free as well.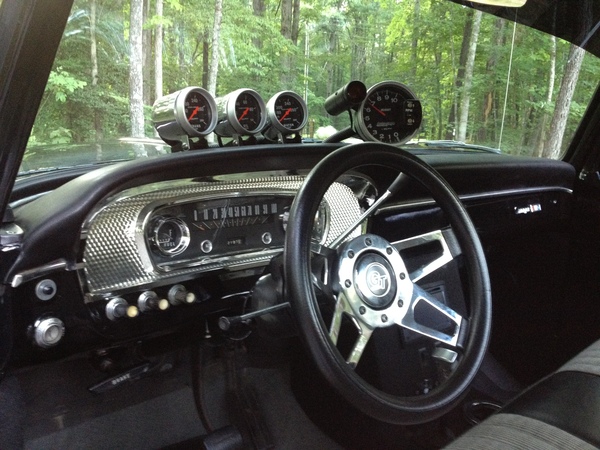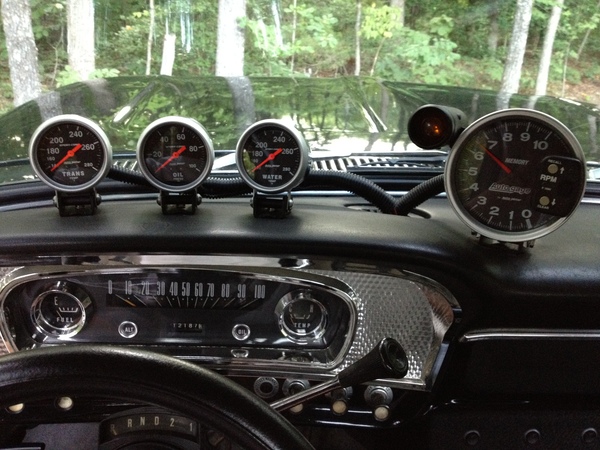 It has a shift kit installed, and a 3500 stall converter which needs a judicious amount of go-pedal applied to get this beast rolling to prevent you from "accidentally" crushing the car in front of you at a red light if your foot should slip off the brake!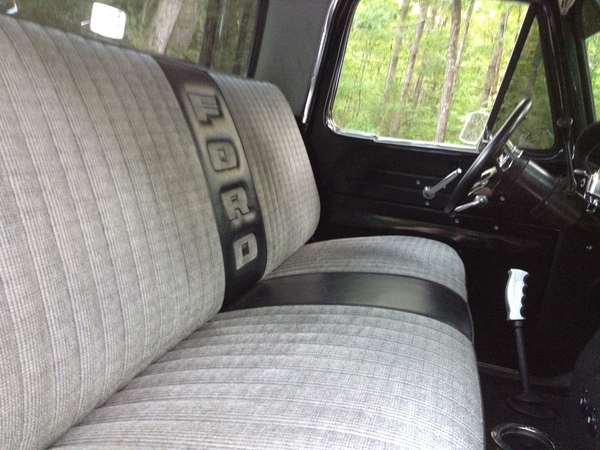 Power to the beast comes from a Robbie Dix built FORD 460ci big-block with a 650 lift cam, TRW flat top pistons, Cobra Jet valves, roller-rockers, billet timing chain gear set, FORD Racing hi-flow water pump, MSD ignition, and an 830cfm HOLLEY double-pumper to feed it fuel. It gets an estimated 650hp to the wheels, and will throw you and you passenger into the seat back while the nose lifts towards the sky on a full throttle launch, and you tear away down the highway.