Well-known member
Staff member
administrator
Registered
Just a neat old pickup? Guess again! Someone pulled out all the stops on this 1953 Ford F-100 Pro-Touring, giving it a killer custom look with plenty of modern horsepower compliments of a Roush 427 V8, 4R70W automatic transmission, and plenty of creature comforts that make the driving experience in this truck an absolute blast. If you appreciate performance hidden inside a mean-looking old-school truck, this Ford is for you! At first glance, this handsome pickup has just the right mix of custom toughness and vintage hot-rod class to give it a slick street presence. This F-100 will bring a smile to everyones face when they see it ambling down the road and they hear that 427 open up.
The freshened Ford F-100 face would become one of the most popular trucks in history, and despite some nice custom touches and a few trick components, this one retains its commercial good looks even with Ford Mustang paint. Its very straight, and was built by Fat Fender Garage , and when it was built the restorers took their time to get it right, because this sucker is awfully close to flawless. Some custom touches deleted bumpers and roll pans. The Metallic Grey paint is in really great shape, and the bed has been nicely finished as well, including a relocated gas tank back there in-frame fuel cell. The only bit of chrome to be found is on the custom grille and headlight buckets up front, the side mirrors, and the windshield wipers, but the bright contrast looks fantastic against the dark finish. Theres not much inside that hasnt been seriously reworked either, and the black-on-black look is fantastic. The leather bench seat looks right at home and are modern so theyre comfortable and easy to adjust, and both of them are split by a custom middle console.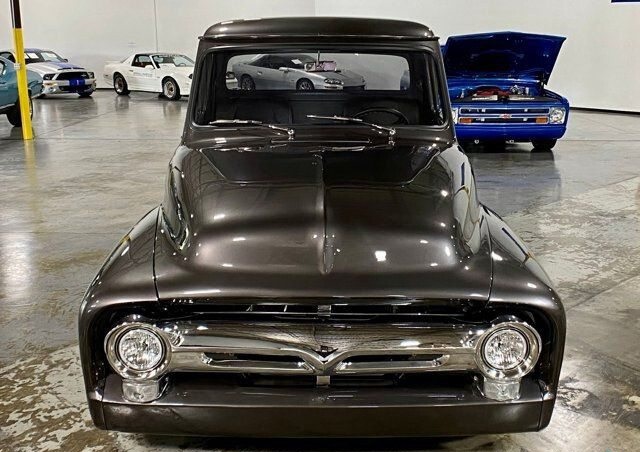 The dash was painted to match the exterior, with a custom bezel filled with Classic Instruments gauges, a Vintage A/C unit that blows cold air, and a Custom steering wheel mounted on a tilt column. Custom door panels match the theme of the seats perfectly, and the plush carpets below are in great shape. This little pickup will cruise effortlessly at highway speeds, quite unlike its siblings that run out of breath at 45 MPH. The engine is a Roush 427-SR V8 motor with plenty of pop and a ton of life left in it with only 2,328 miles on the build. The result it a torque factor that moves this truck like a modern muscle car. A big 750 4-barrel carburetor and MSD ignition means it starts instantly and idles well even when its cold, and with that transmission and custom driveline, fuel economy is reasonable, too. Its packed into that neatly finished engine bay with a shaved fire wall.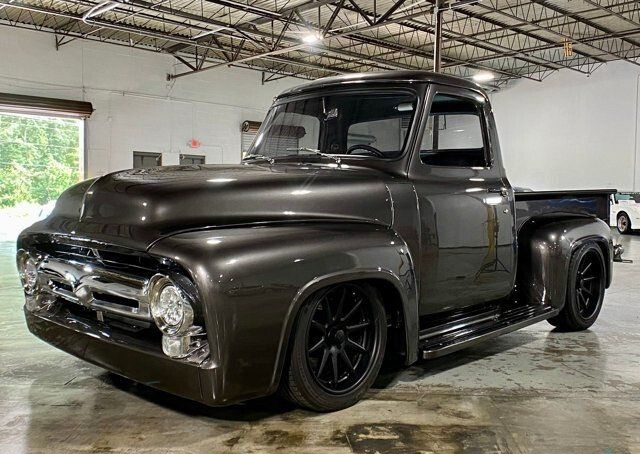 The chassis is augmented with Heidts coil over suspension with independent front suspension with power rack-and-pinion steering, Wilwood power four-wheel disc brakes with incredible stopping power, and Heidts 4-link out back. BBk shorty headers feed a great-sounding dual exhaust, and the engineering is done right tucked up inside the boxed frame. U.S. Mag whipped up a set of custom black 2 piece 20-inch wheels just for this truck and theyre wrapped in staggered front and rear performance radials. Beautifully built and ready to go or show, this is one vintage pickup that hauls more than tools. With tons of man-hours and big bucks wrapped up in the build, its every bit as nice as you think it is.