Well-known member
Staff member
administrator
Registered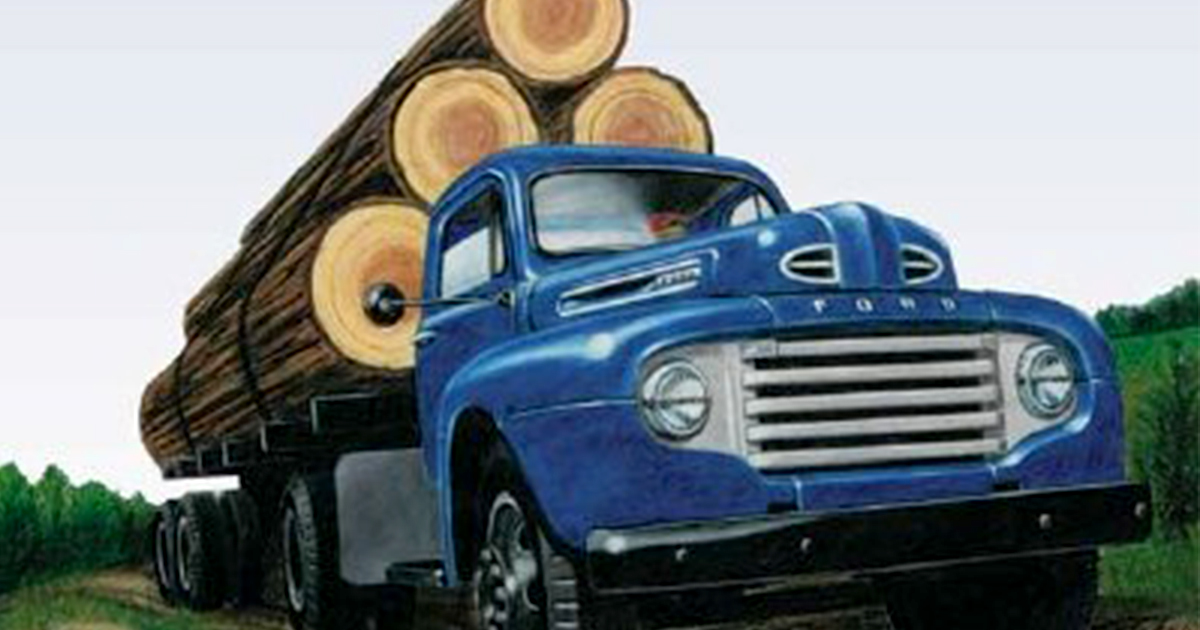 For the truck-makers at the Ford Motor Company, the 1940s can best be described as a roller-coaster ride. It would celebrate a number of high points during the decade, but would also have to endure its share of lows.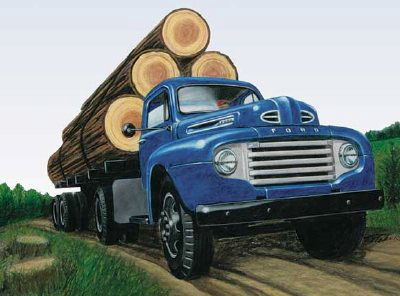 The war effort in the 1940s gave Ford the ability to produce more trucks.
Things started out well for Ford, particularly when it came to its commercial vehicles. Practically all of them featured fresh styling cues, with lighter-duty models mimicking the look of their automotive cousins.
Heavier-duty trucks -- except for the Cab-Over-Engine models -- were also restyled, though not in the same vein. All Ford regular-cab models used reworked cabs that incorporated a one-piece cowl top, roof, and windshield-pillar stamping. They also got a new instrument panel, along with sealed-beam headlights.
The war effort later in the decade gave Ford the ability to produce more trucks. This led to the the new era with the "F-Series" during the last few years of the decade.
In 1940, Ford trucks took on car styling for the first time since 1932. Look at photos and read about 1940 Ford trucks in the next section.
1940 Ford Trucks
Ford trucks were updated in 1940 as 1/2-ton trucks took on car styling for the first time in almost 10 years. Ford also produced its 28-millionth vehicle in 1940.
1940 1/2-ton Ford pickup
For 1940, 1/2-ton pickups adopted the look of that year's Standard-series cars -- the first time since 1932 that trucks shared car styling. This included a vee'd grille, pointed hood, and headlights mounted into the fenders, giving these haulers a modern, classy look. Power continued to come from a choice of two flathead V-8 engines: a 136-cubic-inch 60-horsepower unit, or a 221-cid 85-hp version.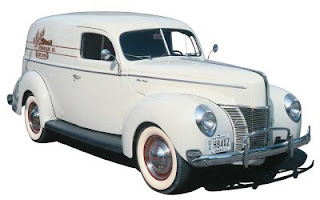 1940 Ford Sedan Delivery
By contrast, Sedan Deliveries carried the styling of Deluxe-series 1940 cars, with slated "gills" flanking a horizontal-bar grille. Sedan Deliveries also got a larger cargo body this year.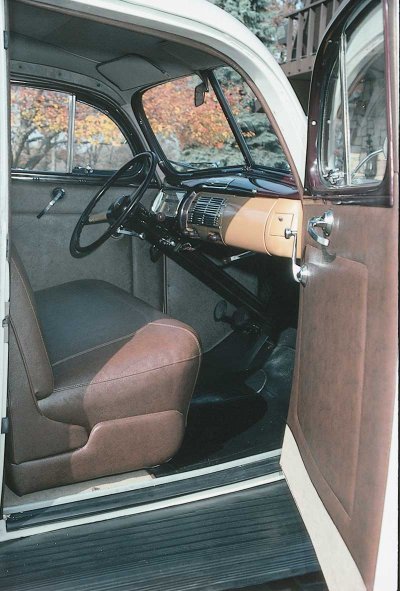 1940 Sedan Delivery interior
The interior of 1940 Sedan Deliveries was also new, and likewise followed the lead of its automotive counterparts with dressy two-toning and chrome accents.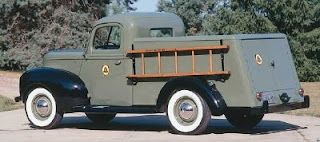 1940 Ford pickup
Originally used by the Bell Telephone Co., this Ford pickup sports a special utility box.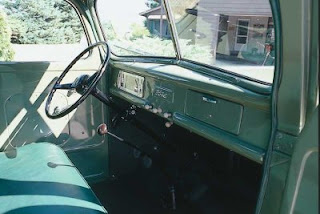 1940 Ford pickup interior
Though the exterior of the Bell Telephone Co. truck mimicked car styling, the interior of this Ford pickup still said "truck" with its flat, monotone dashboard.
A new six-cylinder engine became available for Ford trucks in 1941. Read about this change and other updates to Ford trucks in 1941 in the next section.
1941 Ford Trucks
The big news for Ford trucks in 1941 was the availability of a new six-cylinder engine option to augment Ford's flathead V-8. The six had more torque than the V-8 and provided somewhat better fuel economy. And for those really interested in economy, also offered on some light- and medium-duty trucks during this period was a four-cylinder engine based on that of the company's farm tractor.
In war-related work, Ford began producing a version of the 434 "Jeep" type universal vehicle for the military, and also started constructing new war-related plants -- just in case the United States got drawn into World War II.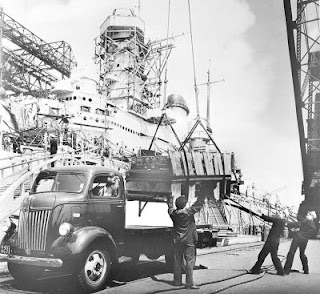 1941 Ford COE flatbed truck
A 1941 Ford COE flatbed gets loaded down with part of a ship's cargo. These trucks got a car-inspired grille for 1941 to replace the previous upright oval.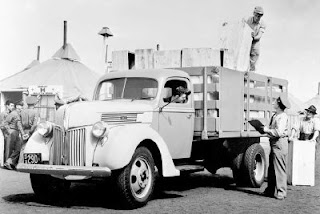 1941 Ford Stake Bed truck
Conventional heavy-duty trucks retained the previous year's styling, as shown on this 1941 Ford Stake Bed. Note that all heavy-duty models retained freestanding headlights.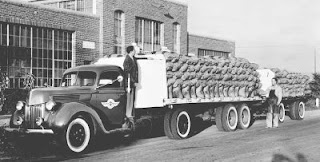 Ford tractor-trailer rig
Ford-powered tractor-trailer rigs appeared in the late 1920s, and by the early Forties, were capable of pulling two heavily loaded trailers.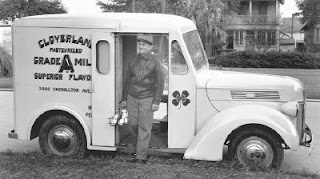 1941 Ford truck
A shortened Ford one-ton chassis is seen fitted with a custom delivery body. Trucks used for local deliveries, such as this milk wagon, were sometimes ordered with 1941's newly available four-cylinder tractor engine for better fuel economy.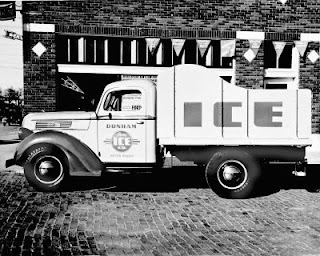 1941 Ford truck
There's little doubt as to the cargo carried by this 1941 Ford truck operated by the Dunham Ice Company of Baton Rouge, Louisiana.
As the United States was drawn into World War II, Ford changed its manufacturing plans to suit the war effort. Read about the Ford trucks of 1942, 1943, and 1944 in the next section.
1942, 1943, and 1944 Ford Trucks
Ford trucks were treated to a restyle for 1942 that was shared by all models, and they no longer looked like the car line. However, it turned out to be a short selling season.
The United States was drawn into World War II on December 7, 1941, shortly after Ford's 1942 models were introduced. The order was given to stop production of civilian vehicles on February 10, 1942, so assembly plants could be converted to producing war materiel.
From the time the plants closed through to the end of the war, Ford concentrated its efforts into building B-24 Liberator bombers; aircraft engines; tanks; Jeep-type military vehicles; wooden gliders; and military versions of the 1942-era pickup trucks, cars, and heavy-duty trucks.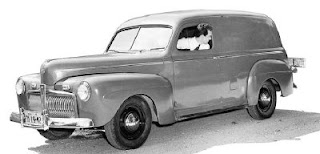 1942 Ford Sedan Delivery
A Ford Sedan Delivery shows off the redesign given Ford cars for 1942. Like their truck counterparts, car production was low -- and for the same reason.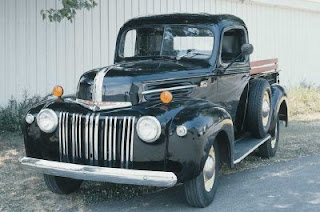 1942 Ford truck
Ford trucks boasted new styling for 1942, but relatively few were built.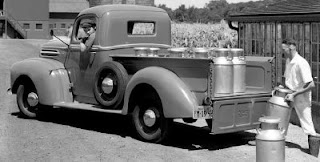 1942 Ford truck
Production ceased on February 10, 1942, so the Ford company could concentrate on building war material instead.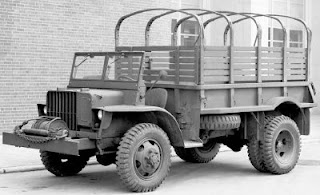 Ford cargo truck
Ford built several prototype 3/4-ton military vehicles, including this forward-control four-wheel-drive cargo truck.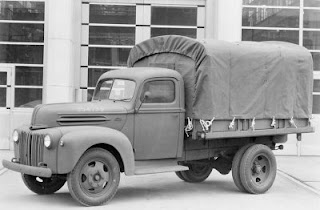 Ford military vehicle
Ford produced a variety of military vehicles during World War II.
In May 1943, the Ford Motor Company suffered a heavy loss with the death of Edsel Ford, Henry's only son, who at the time was president of the company. Upon Edsel's death, Henry Ford once again stepped in to take the helm, but at 80 years of age, wasn't capable of the task. Because Ford Motor Company was so vital to the war effort, the United States government stepped in, essentially assigning a successor. Tapped for the job was Edsel's oldest son, Henry Ford II.
At the time, "Henry the Deuce" was in the Navy. At just 26 years of age, the government pulled him out of military service and reassigned him to the vice presidency of Ford Motor Company.
With demand for war-related vehicles easing toward the end of 1944, the War Production Board authorized Ford to resume production of a limited run of heavy-duty trucks for the civilian market. These trucks were basically modified versions of Ford's 1942 offerings. In order to be able to buy one, purchasers had to prove their business was vital to the war effort.
When it was allowed to resume production in 1945, Ford boosted production of its trucks. Read about the Ford trucks of 1945, 1946, and 1947 in the next section.
1945, 1946, and 1947 Ford Trucks
The War Production Board allowed the automobile companies to produce more vehicles for the civilian market starting in early 1945. Ford took this cue to boost production of its heavy-duty trucks, which were introduced in May of that year. Though they looked like Ford's 1942 models, they were treated to a number of modifications, including an improved V-8 engine.
In September 1945, Henry Ford finally stepped down from leading the company that bore his name. As expected, he was succeeded in the presidency by his grandson, Henry Ford II.
What Henry II inherited was a company in rather dire straits. Ford Motor Company had been on unsteady financial footing before the war, and didn't emerge from it in any better shape. It would prove a formidable challenge to turn the company around, but its new president succeeded.
Ford's Cab-Over-Engine models returned to the lineup in 1946, and were joined by some heavier-duty two-ton models. These "Ford Heavies" featured reinforced frames, two-speed rear axles, heavier-duty springs, and larger tires.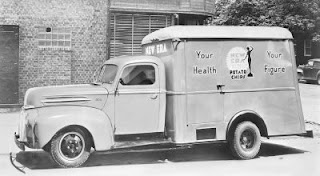 1946 one-ton Ford truck
New Era potato chips were delivered -- and promoted -- by this 1946 one-ton Ford truck, which was now referred to by the factory as a "Tonner."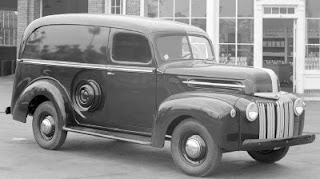 Ford Panel Delivery
A Ford Panel Delivery shows off its postwar face, which was little different from its prewar look. Note the "spare tire," that is just a wheel; even after the war, rubber supplies were short, and many vehicles didn't come with a mounted tire.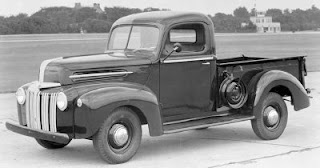 1946 "Half Ton" Ford pickup truck
This 1946 1/2-ton pickup, now called a "Half-Ton" by Ford, is also tire-less due to post-war rubber shortages.
On April 7, 1947, the Ford company -- and indeed, the country -- mourned the loss of one of the automotive industry's great pioneers when Henry Ford died at his home. He was 83.
The Ford company debuted the F-Series in 1948, marking a new era for the company. Read about these Ford trucks in the next section.
1948 Ford Trucks
In January 1948, a new era began at the Ford Motor Company with the release of an all-new line of trucks that Ford dubbed the "F-Series."
This new series, which Ford promoted as its "Bonus Built Line," covered a wide range of models with different cab and chassis combinations. The line started out with light-duty 1/2-ton-rated pickup trucks and ran all the way up to the Extra Heavy-Duty, three-ton-rated F-8. These trucks used a completely redesigned cab with all-new front-end sheetmetal. And in a departure from previous practice, the same cab served both conventional and Cab-Over-Engine models.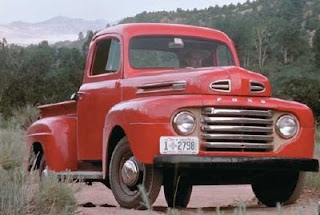 1948 F-1 Ford truck
Along with the fresh styling given 1948 Ford trucks came new model designations; this 1/2-ton was labeled the F-1. Squared-off front fenders wrapped smoothly into the front fascia, which contained a prominent horizontal-bar grille. Rear fenders were styled to match the profile of the fronts. Also new was a one-piece windshield.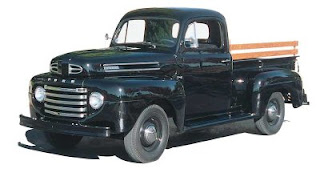 1948 Ford F-1 truck
To clearly identify its expanding line of trucks, Ford put the series identification on the cowl, just ahead of the door; this F-1's ID can be seen just above the trailing edge of the front fender. Less well-publicized was the engine beneath the hood, which in lighter-duty models could be either the 226-cubic-inch six-cylinder with 95 horsepower, or a 239-cid flathead V-8 with 100 hp.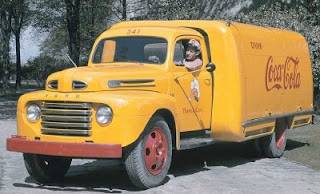 1948 Ford F-5 chassis
A 11/2-ton-rated F-5 chassis was fitted with a special body for this Coca-Cola distributor.
1940s Ford truck interior
Compared with today's trucks, those of the 1940s had a decidedly different seat/steering-wheel relationship, with the wheel being mounted closer to the driver in a more horizontal position. Note that dashboards on the new trucks were still rather plain.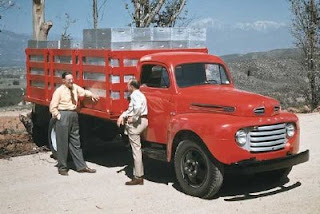 Ford Stake Bed truck with conventional design
Stake Bed trucks were available in both conventional (top) and COE designs. The conventionals are 11/2-ton F-5s, the COEs two-ton F-6s. Both could be powered by a 95-horsepower 226-cubic-inch six or a 100-hp 239-cid V-8.
New for 1949 were stand-up Ford Parcel Delivery trucks. Read about Ford trucks in 1949 in the final section.
1949 Ford Trucks
For 1949, Ford restyled its car line for the first time since the war, but because it didn't include a Sedan Delivery model, the truck line was not affected. What the Ford truck line did get, however, were a couple of new stand-up Parcel Delivery vehicles.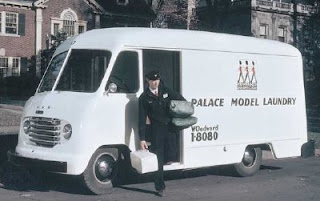 1949 Ford Parcel Delivery chassis
All trucks shared the same corporate "face" of the 1948 redesign, regardless of chassis setup or weight class. So even vehicles such as this new-for-'49 Ford Parcel Delivery chassis, which started with just a front end and windshield (the body being added by an aftermarket supplier), could easily be identified as a Ford.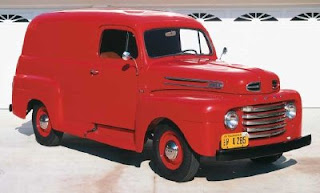 1949 F-1 Panel Truck
A restored 1949 Ford F-1 Panel Truck shows this captivating workhorse in all its original glory.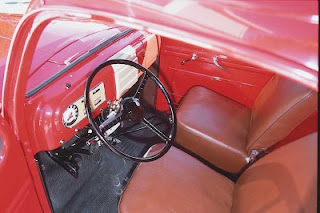 1949 Ford F-1 Panel Truck interior
The passenger seat was an option on the 1949 Ford F-1 Panel Truck.
Ford F-1 Chassis with Windshield models
A generation of postwar baby boomers remember the ringing bell that accompanied the summertime arrival of the Good Humor truck. Most of these mobile ice cream trucks were Ford F-1 Chassis with Windshield models fitted with a special icebox.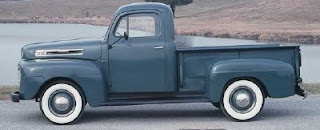 1949 Ford F-1 truck
Perhaps one of the classic pickups of all time, the Ford F-1 truck was a study of simplicity with style. Unlike some earlier Ford trucks, there was no external badging to indicate this restored example carries a V-8 rather than the standard six.
Looking back over the decade, Ford faced financial troubles and fought back with successful new products. Though the 1940s will always be remembered as "The War Years," Ford produced some vehicles that would long be remembered as well.