Well-known member
Staff member
administrator
Registered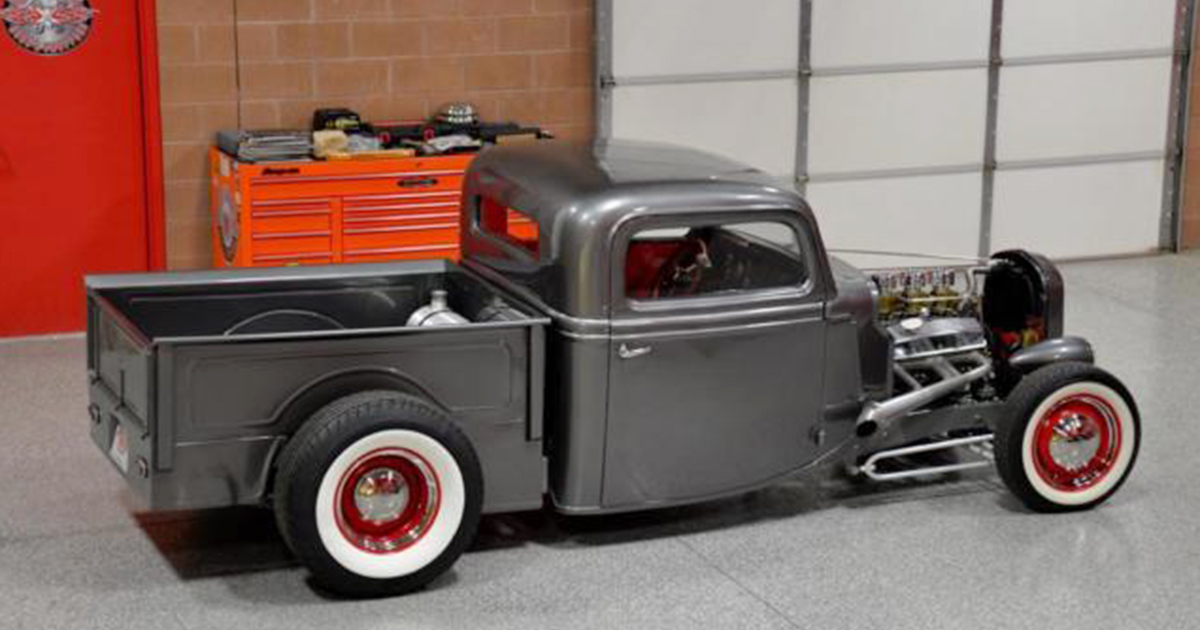 If you have been searching for a highly unique, high-quality vintage Hot Rod Pickup truck in a world chocked full of cookie cutters, well folks your search is over! 'Red Hills Rods & Classics' is very excited to offer you this absolutely beautiful one-of-a-kind all-steel 1936 Ford Pickup Hot Rod! Countless man-hours were spent building this Kustom truck from the ground up, and the final results were well worth the time! This gorgeous '36 Ford Pickup was built over a 5-year... period w/ lots of thought put into creating a show truck w/ unique features that can be driven & enjoyed to the fullest. My favorite feature is the hydraulic 'Dump Truck Bed' which functions flawlessly, and is sure to have your friends cheering!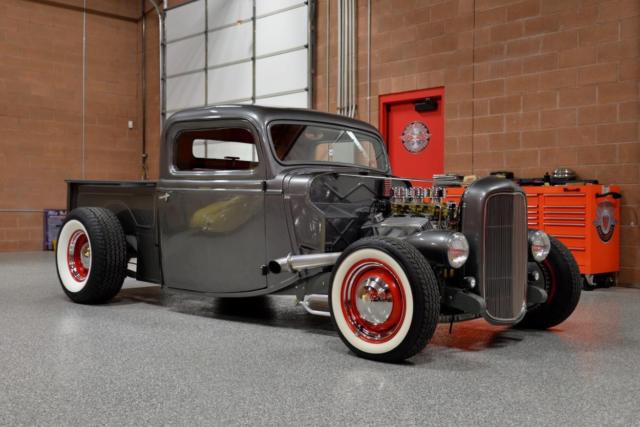 The extensive build process started w/ an original all-steel '36 Ford Pickup body that was modified extensively for just the right look w/ maximum comfort in mind. Modifications include: 4" front chop, 3.5" rear chop, channeled 4", cab & doors lengthened 6", bed shortened 10", and wheel base lengthened 6". Untold hours were spent on the bodywork making sure that all of the sheet metal is laser straight, that all of the gaps are perfect, and that all panels were properly aligned. The body sits on the original modified/stock 1936 Ford frame featuring a Pete & Jakes 4-bar front-end w/ a 4" dropped & drilled solid axle, leaf springs & shocks in the rear, Buick 12" finned aluminum brakes up front, and Ford 10.5" steel drums in the rear (please view the undercarriage photos to see how nicely everything was done on the chassis). The truck was finished in a beautiful shade of Gun Metal Grey, which looks outstanding on this Pickup! She sits on 15" painted steel wheels (15 x 5 up front & 15 x 7 on the rear) w/ chrome beauty rings & dog dish hubcaps, wrapped w/ brand new B.F. Goodrich Silvertown white wall radial tires. This Hot Rod Pickup has the perfect stance and sits just right.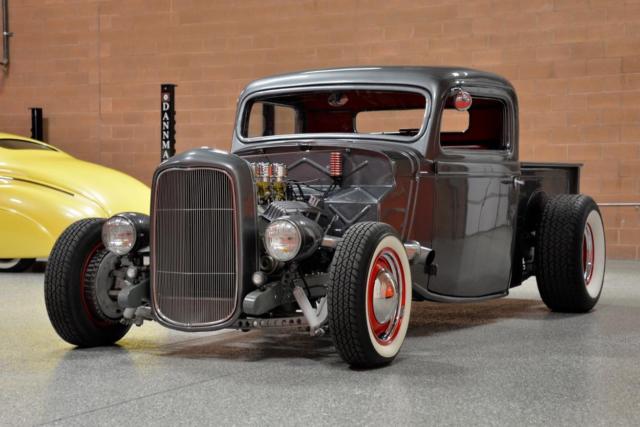 Other features include: red German Square-Weave carpeting, original painted dash w/ a full set of Auto-Meter vintage-style gauges, Painless wiring harness, 1940 Ford steering column, wrapped billet Mooneyes steering wheel, vintage turn signal assembly, power windows, 26" shifter w/ porcelain skull shift knob, and under-dash toggle switch to control the 'Dump Truck Bed' feature (see photos). As I mentioned previously the cab was extended 6", which creates much more leg-room for taller folks. I am 6' 2" weighing 210 Lbs. and I fit comfortably in this truck. The interior is extremely comfortable and fully functional in every way. Powering this ultra-cool Hot Rod Pickup is a completely rebuilt 283ci motor, which was bored out to 317ci, featuring: 461 double hump heads, Comp Cams Thumpr hydraulic camshaft, 327ci small journal crankshaft (increased stroke to 3.25"), Cal Custom finned valve covers, Offenhauser Tri-Power aluminum intake manifold, (3) Rochester 2V carburetors, Pertronix Ignitor II electronic ignition, Patriot Lake Style Header exhaust, and an 11-gallon aluminum fuel tank. The motor is linked to a Muncie M20 4-Speed transmission, which feeds power to a Ford 9" rear-end w/ 3.50 gears. She fires up instantly and she runs, drives & performs beautifully in every way! The Tri-Power set-up is tuned to perfection and functions flawlessly.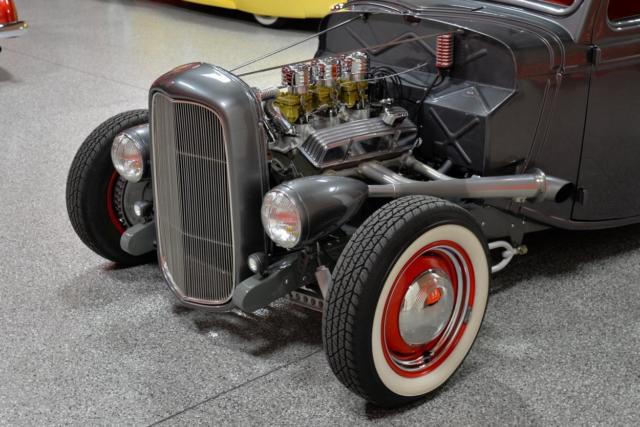 The motor has lots of power & torque and pulls hard through all four gears. Whether you are cruising around town or planning on getting out on the freeway for a long haul, this Hot Rod Pickup will not disappoint! I drove her to the local Starbucks and there was a large crowd around the truck within minutes. Everyone who sees this truck absolutely LOVES it! The new owner will receive a binder and a pile of receipts & invoices for the work performed during the extensive build. So again, if you have been searching everywhere for a high-quality & highly unique vintage pickup that will take home 'First Place' trophies or one that can be driven and enjoyed to the fullest, it will be very hard to beat this gorgeous 1936 Ford Hot Rod Pickup!