Well-known member
Staff member
administrator
Registered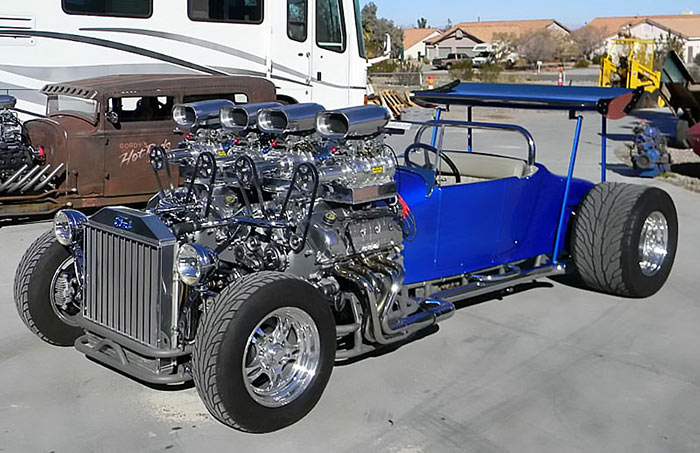 1927 Ford Model T with two side-by-side engines with a total displacement of 9.2 liters and four superchargers that produce 1200 horsepower? … It is not possible, you must have been dreaming. Something like that cannot even fit under the hood", my friends were joking with me while I was telling them about this Hot Rod.
Well my friends, it is possible.
This was proved about 5 years ago with the project "Double Trouble" by Gordon Tronson, former Funny Car racer from New Zealand who lives in Las Vegas, Nevada. And if the hood cannot cover the two V8 engines placed next to each other, there is still another option – simply remove the hood.
Gordon Tronson started this project without a specific plan, without a draft, without anything… except with the idea in his head. But, for true gearheads the rules like "do not try this, do not try that" are not acceptable … they follow the rules like "dare to dream, dare to believe, dare to achieve".
The car is handmade, each piece of metal passed through his hands. During this process, many of his acquaintances thought that the sun in Nevada troubled his head, but he knew that the idea can be turned into one of the hottest hot rods that will appear on the roads.
After 6 months of hard work in his garage, this bad 1927 Ford Model T Hot Rod saw the light of the day. Even the biggest skeptics had to agree that it is a piece of art.
As I said, every piece on this car was crafted by its owner. The chassis is made of 1.5-inch manually custom-bent steel tubes, the body is made of fiberglass and this monster is powered by two 4.6 -liter modular Ford V8 engines stacked next to each other.