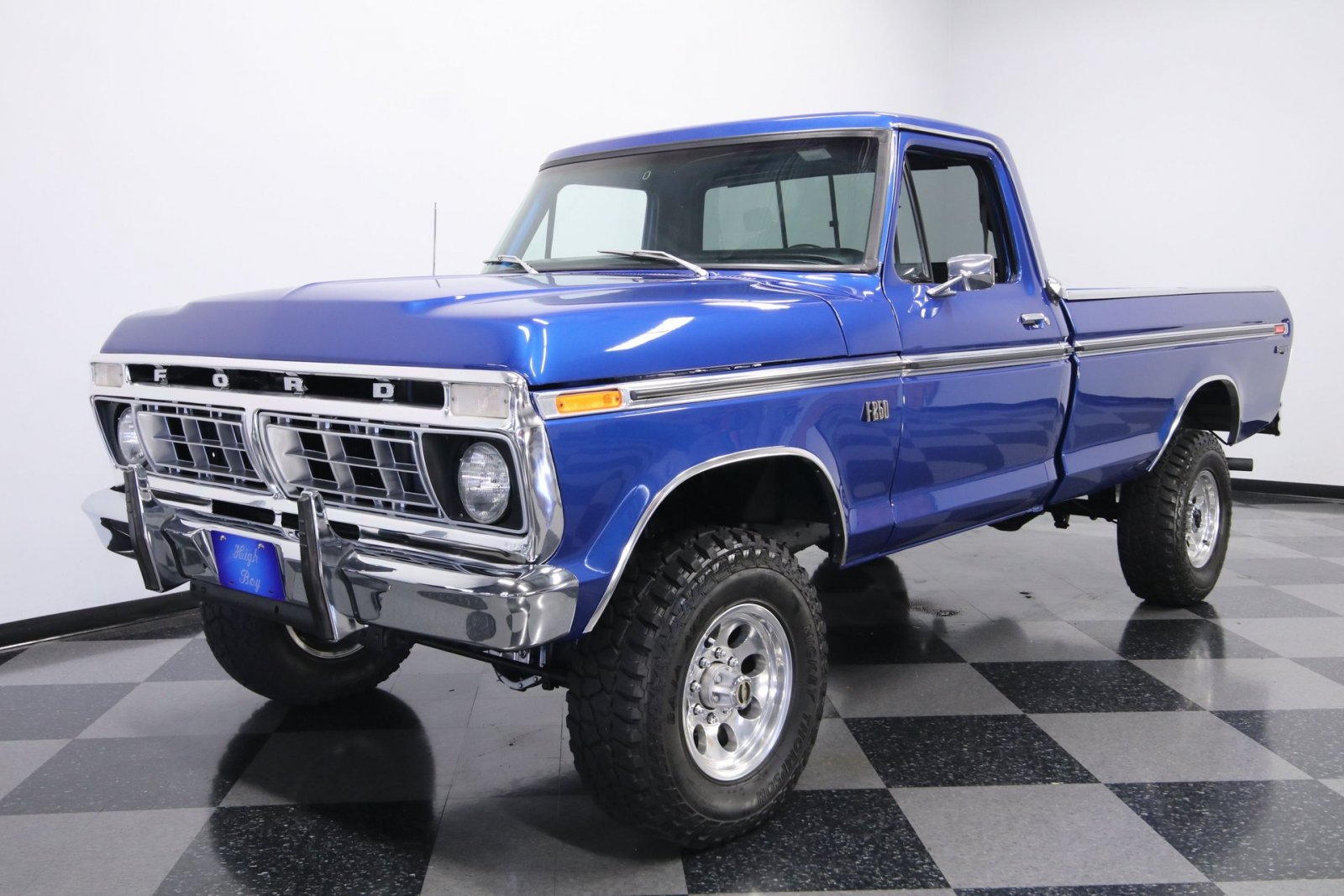 360 V8, 4 SP MAN, P/S, P/B, GORGEOUS PAINT & BODY, M/T WHEELS & TIRES, BED LINER
An awesome tall stance, big V8 power, four-on-the-floor, and the right upgrades both for flair and to get the job done: that's what you get with this 1976 Ford F-250 Highboy 4x4.
This vintage extra-duty pickup offers just the right combination of functionality and flash. The factory dark blue was repainted in 2017. It retains the deep tone worthy of a beefy truck like this, but now there's a deeper luster that you're going to love. In fact, all that added shine accentuates the truck's square-jawed lines. And speaking of the shine, this one really shows off its function within the bright style. For example, the bumpers have a mirror-like look that showcases the diamond plating step-style in the rear. And we know you love the style and ruggedness that comes from the Mickey Thompson polished 8-lug wheels. The grille looks great, and the premium Ranger full-length trim highlights the straightness of the sheetmetal. But while this is a head-turning total package, it also never loses its true truck practicality. The long 8-foot bed is protected with liner paint so this can easily take on the weekend projects in between the car shows.
Inside, this gets the classic truck look right with taut door panels, a nice dash, factory-style gauges, and the exterior blue retuning on the door tops and lower dash. But there's also a freshness everywhere from the carpeting to the headliner that tells you they made the right investments. In fact, the bench seat has that classic insignia trim look, but in fact, it was reupholstered within the last few years in a comfy cloth. They even redid the springs and foam for ideal comfort. You'll spot a few more nice upgrades, like the Grant sports steering wheel. But we bet your favorite feature will be the sliding rear glass. It combines with the side vent windows to give you that classic old-school breeze through the cab that only a vintage truck can.
or give us a call at(813) 501-1630